Gordon's recent assists gems are favorites
Gordon's recent assists gems are favorites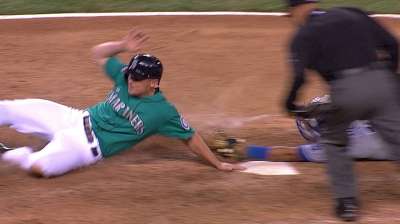 SEATTLE -- Two-time Gold Glove Award left fielder Alex Gordon has reached the 17 mark in outfield assists this year, sharing the Major League lead with Arizona's Gerardo Parra.
Does he have any favorites among them?
Gordon pointed to his last three assists.
On Sept. 14 at Detroit, he dug a ball barehanded out of the corner and threw to shortstop Alcides Escobar, whose peg to catcher Salvador Perez nailed Prince Fielder to end the game.
On Sunday, Gordon nailed the Rangers' Alex Rios at third base for a crucial double play, aided by Mike Moustakas' terrific tag.
On Monday night, it was his heave to Perez that doubled up Kyle Seager to keep the Mariners from winning in the 10th.
The Royals won all three of those games.
"Any of those is pretty big," Gordon said.
"Two of them were my infielders making a great play for me. I've got to make a good throw but, at the same time, they've got to make a great play and they've done that throughout my career when I've been in the outfield."
Gordon was the Royals' third baseman in 2007-09 before being switched to the outfield and the infield experience is credited with helping his throwing.
"You see it more with infielders that moved to the outfield. They're used to having a quick release," manager Ned Yost said. "But I haven't seen anybody as good as him."
Dick Kaegel is a reporter for MLB.com. This story was not subject to the approval of Major League Baseball or its clubs.