Sale supports Scherzer for Cy Young Award
Sale supports Scherzer for Cy Young Award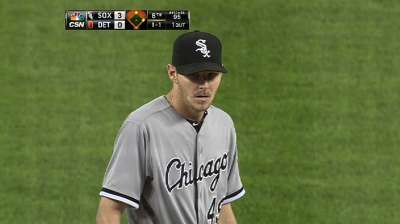 CLEVELAND -- Chris Sale does not have a vote for the American League Cy Young Award.
But if he did, the White Sox ace knows exactly where he would cast his support.
"Scherzer, without a doubt," Sale said prior to Tuesday's game against the Indians, referring to the Tigers' Max Scherzer. "I know a lot of people raise questions just because of the lineup he has behind him. But at the same time, you still have to go out there and pitch well.
"You look at all his other numbers, strikeouts, walks, innings pitched. All that stuff. He's probably got the best numbers of anybody."
Sale went on to mention Scherzer's consistency, with just five starts of less than six innings and seven where he allowed more than three runs.
"Shoot, I've had three where I gave up eight [runs] this year," Sale said with a laugh. "He's never had that really bad game. He's just been consistent the whole year."
Many pundits have pointed to Sale as a Cy Young contender, with his numbers being as strong as any AL starter when taking away his 11-13 record. In the world of Sabermetrics, pitchers' wins have been devalued.
That line of thinking is understood by Sale, with a starting pitcher only able to control so much on the mound. Yet, he respectfully disagrees.
"You don't play for ERAs, strikeouts and batting averages. You play for wins," Sale said. "And I know that the new [stats] might say that this guy might do this, but at the end of the day, the team with the most wins, wins, you know? The team that wins the last game of the year is the best in the world.
"Wins are necessary. It's not the biggest thing, but you still have to win games."
As for a pitcher who loses a 1-0 game, as an example, Sale presents a very basic explanation.
"You got outpitched," Sale said. "There's a lot that goes into it, but I think at the end of the day, you have a guy that wins 20 games in a season, that's tough.
"I don't care who you are pitching against, who you have on your team. You still won 20 games and there's something to be said for that. All of [Scherzer's] numbers match that, so I think he's the guy."
Scott Merkin is a reporter for MLB.com. Read his blog, Merk's Works, and follow him on Twitter @scottmerkin. This story was not subject to the approval of Major League Baseball or its clubs.