Maxwell's slam rates among elite company
Maxwell's slam rates among elite company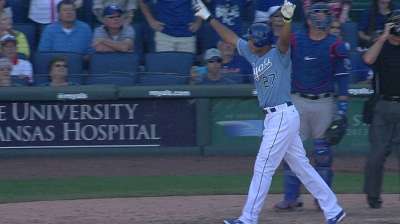 SEATTLE -- Justin Maxwell's walk-off grand slam on Sunday in the Royals' 10-inning, 4-0 win over Texas has kept the figure filberts working overtime for some interesting findings.
"It's flattering. Considering the history of this game, it's great," Maxwell said.
Some of the tidbits dug up by the Elias Sports Bureau:
It was the franchise's fourth game-ending grand slam. The others were by Joe Randa, May 16, 2001, against Tampa Bay; Rey Palacios, May 14, 1990 (10th inning) against Boston, and Cookie Rojas, May 28, 1974 (11th inning) against Baltimore.
In the Majors, Maxwell had the first walk-off slam to end a scoreless tie since Don Buford pulled the White Sox over Cleveland on Sept. 14, 1967.
Maxwell, who also had a game-ending slam for Washington in 2009, is the third active player to have at least two walk-off slams, joining Alex Rodriguez (3) and Ryan Zimmerman (2).
"This one was a little more special, based on what we're playing for," he said.
Going even deeper, since 1988 there have been just six walk-off slams with two outs and a 3-2 count on the batter, and Maxwell has two of them. The others were by Alan Trammell (1988), Tino Martinez (1995), Brad Wilkerson (2003) and Zimmerman (2011).
And it was just the fifth time in history that a player's walk-off slam ended his team's home half of the schedule. In addition to Maxwell's two -- yes, the Washington blast was a game-ender as well -- the others were Nomar Garciaparra, Dodgers vs. Arizona, 2006; Johnny Pramesa, Cincinnati vs. St. Louis, 1951, and Hall of Famer Ralph Kiner, Pittsburgh vs. Cincinnati, also 1951.
"That's pretty cool," Maxwell said. "Ralph Kiner's on there. That's sweet."
Dick Kaegel is a reporter for MLB.com. This story was not subject to the approval of Major League Baseball or its clubs.