Paxton's 10 K's, homer help Smoak Royals
Paxton's 10 K's, homer help Smoak Royals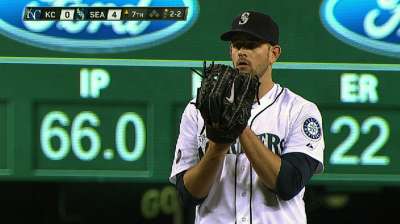 SEATTLE -- Intuitively, one would assume that the Major Leagues would prove much more difficult for a rookie pitcher.
That hasn't been the case for Mariners lefty James Paxton, who continued his stellar September by holding the Royals scoreless over seven innings en route to Seattle's 4-0 win on Tuesday night at Safeco Field.
Paxton allowed just four hits and no walks while striking out 10, becoming the first Mariners rookie with 10 strikeouts in a game since Hisashi Iwakuma on July 30, 2012. Since making his MLB debut on Sept. 7, Paxton has 21 strikeouts while allowing just 18 baserunners over four starts with a 1.50 ERA.
"What he's doing, what you're seeing against the teams he's pitching against is real," manager Eric Wedge said. "I like the composure out there. I like the consistency with which he carries himself. There's a lot to like there, he hasn't changed a bit in the short term. It's only been a few starts, but he's handled himself very well."
Paxton, who entered the season ranked as the No. 61 prospect in MLB.com's Top 100, was the Mariners' fourth-round pick in the 2010 First-Year Player Draft. The 24-year-old is the second member of Seattle's "Big Three" pitching prospects, along with Taijuan Walker and Danny Hultzen. The latter has yet to make his MLB debut.
In his first Triple-A season, Paxton was anything but a surefire superstar, going 8-11 with a 4.45 ERA for Tacoma. While his 97-mph fastball allowed him to rack up strikeouts, his ability to keep runners off the basepaths is a revelation.
"He's just getting started up here and at some point in time the league will make some adjustments and that'll be a challenge for him, but he's up for that," Wedge said. "It's nice to see him show some consistency, show some of the intangibles you like to see."
Paxton acknowledged that the pitches he's throwing now feel more potent than his offerings from earlier this season.
"I think they're better just with that kind of heightened adrenaline," Paxton said. "Just being able to rein that in and execute pitches, and my stuff is just getting better."
Shortstop Brad Miller led off with a single and scored on Kendrys Morales' single to give Seattle an early 1-0 lead. Morales finished 3-for-4 with two singles and a double and has been one of the club's few reliable bats.
Justin Smoak broke the game open in the fifth inning, sending an 0-2 pitch from Royals starter Bruce Chen deep over the left-field fence with two outs to give Paxton a four-run cushion.
"He had two strikes on me and kept trying to sneak a fastball by me," Smoak said. "Slide-step fastball and then finally, he got one up pretty much in the middle of the plate and I was able to put a pretty good swing on it."
The home run was the switch-hitter's second of the season batting right-handed. The other came on Sunday against the Angels.
Smoak's season has been one of peaks and valleys, as he's raised his batting average from .237 at the end of April to .274 in August before sliding back to .240 after a dismal September.
His splits have been pronounced, batting nearly .100 points better from the left side of the plate. But if these last two homers are any indication, Smoak may finally be finding some balance at the end of the season.
"Yeah, you know I've been working on a few things right now and just trying to keep my bat in the zone longer," Smoak said. "I feel like I've been letting the ball travel a bit better and I've been a little bit better at-bats, and it's starting to show a little bit."
Morales helped extend the fifth inning by hitting a two-out double, as the ball glanced off the glove of center fielder Lorenzo Cain. Franklin Gutierrez followed with a walk to set up Smoak's blast.
"I should have caught it," Cain said. "It tipped my glove and if it hits my glove, I've got to catch it. It didn't happen and they ended up scoring three runs."
Chen went five innings in the loss, allowing four runs on seven hits with three walks and five strikeouts.
Jacob Thorpe is an associate reporter for MLB.com. This story was not subject to the approval of Major League Baseball or its clubs.