Stanton in favor of moving in Marlins Park fences
Stanton in favor of moving in Marlins Park fences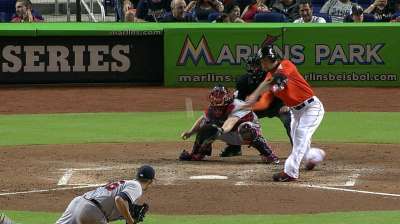 MIAMI -- Marlins Park is modern, colorful and fan friendly. It has a retractable roof, and in many ways, it's an ideal place to play.
If there is an area that could be changed, slugger Giancarlo Stanton would be in favor of bringing in the fences. Not to turn the two-year-old building into a home-run palace, but to make the park more neutral.
The expansive dimensions have rankled both Marlins and visiting players. When the roof is closed, the ball doesn't travel particularly well.
"You love to see scoring, but you love to see home runs as well," Stanton said. "You don't see them when you come here -- from both sides."
Marlins Park ranks last in the Majors in home runs with 84. Just 36 of them are by Miami.
AT&T Park in San Francisco is second from the bottom with 95, and the Giants have 36 of that total.
Stanton, Miami's 23-year-old right fielder, is regarded as one of the most feared hitters in the game. The 6-foot-5, 250-pounder has heard many times that no ballpark can hold him. Still, he wants to be treated the same as any other hitter.
"I want the normal ones, too," Stanton said. "Where I don't have to crush it 500 feet all the time."
Admittedly, Stanton has had a down season, as he entered Tuesday batting .252 with 24 homers in 111 games. He missed all of May with a hamstring injury.
Stanton also was hindered by injury a year ago, finishing with 37 homers in 123 games. Sixteen of them were at home.
Marlins Park is 418 feet to dead center, and the fence is 13 1/2 feet. Down the right-field line, it is 335 feet, and juts to 392 feet in right-center. The left-field line is 344 feet, and the gap is 386 in left-center.
If the Marlins decide to bring in the fences, which they are at least open to considering, they likely would tailor the fences in the middle of the field -- basically from the 386 to 392 markings.
Stanton understands he can hit the ball out without getting everything, but he still feels the ballpark has cost him about 10 homers.
A few teams have moved in their fences recently, including Seattle, San Diego and the Mets.
At Petco Park in San Diego, 141 homers have been hit this year, with 63 by the Padres. New York's Citi Field has had 144 homers, and the Mets have accounted for 58. Home runs have picked up in Seattle, too, where Safeco Field has witnessed 157 shots, with 79 from the Mariners.
The Marlins have 95 homers, with a majority (59) on the road.
The Marlins aren't built as a power team, and Stanton understands his splits are better at home than on the road. He has 15 homers at home, compared to nine on the road.
"I don't care what anyone says," Stanton said. "It's not just because of high fences, the ball doesn't carry here."
Stanton points out that on the road, some players may adjust a few days and focus on using the whole field. For a few games, they may see results and deliver a couple of opposite-field home runs.
So some players have one approach on the road, then go back to focusing on trying to pull the ball at home.
"People don't understand that, at all," Stanton said. "Even explaining it, people don't understand that who aren't in the baseball world."
Joe Frisaro is a reporter for MLB.com. He writes a blog, called The Fish Pond. Follow him on Twitter Share This