Peacock impressive, but Astros' bats fall short
Peacock impressive, but Astros' bats fall short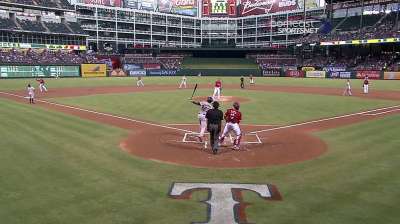 ARLINGTON -- Coming off one of their most lopsided losses of the season, the Astros had a daunting task on their hands Tuesday night against Rangers starter Yu Darvish, who came within an out of a perfect game against them in April and nearly no-hit them last month.
The Astros showed some improved fight and played with more gusto against the Rangers and Darvish, but they wound up in a familiar spot.
Adrian Beltre hit a tie-breaking home run off Brad Peacock in the sixth inning that allowed the Rangers to send the Astros to their 11th consecutive loss, 3-2, in the second-to-last meeting of the season between the clubs at Rangers Ballpark in Arlington.
"The effort is always going to be there with these guys," Astros manager Bo Porter said. "Again, they were up for the challenge against Darvish tonight with the success in which he's had against us. These guys get after it. I felt like our at-bats were really good. We had some opportunities. They ended up getting one bigger hit than we were able to get."
The loss was the 107th of the season for the Astros, tying the club record they set last year. They'll finish out the road portion of their 2013 schedule in Wednesday's series finale against the Rangers, who improved to 16-2 against the Astros this year.
"Sometimes, the score doesn't indicate the effort in which the team put out," Porter said. "This is the kind of effort these guys bring in each and every day."
Peacock pitched well in defeat in his final start of the season. He worked six innings and allowed six hits and three runs, including Beltre's 29th blast of the season that put the Rangers ahead, 3-2. It was Beltre's first home run since Aug. 28.
"It's been a long time, but hopefully that'll be the beginning of a couple this week," Beltre said. "Not because I hit a homer, but because it was a good spot to hit it to give our ballclub the lead, and that's what I want."
Beltre was struck in the shoulder by a pitch from reliever Josh Zeid in his next at-bat in the eighth inning, and Beltre appeared to stare at Zeid while he walked to first base. Both downplayed the incident after, with Zeid saying the 0-2 pitch got away from him.
"I don't have any problem with him and he doesn't have a reason to hit me," Beltre said. "I don't think he meant to hit me on purpose at first, but at that second, that's what I thought. It's no biggie, no big deal. I don't think he was trying to hit me. Maybe I overreacted a little bit."
Darvish lasted only 5 1/3 innings, giving up two runs and four hits while striking out nine batters. It was the first time this season Darvish failed to pitch at least six innings against the Astros.
"He's pitched us tough all year long and today was another one of those days where you have an opportunity in the first inning and you score one off him, and after that he pretty much shut us out," Astros designated hitter Chris Carter said. "Against him, you have to get as many as you can because they have a really good offense."
The Astros, who were 0-for-8 with runners in scoring position, loaded the bases with one out in the first inning and took a 1-0 lead on a sacrifice fly by Carter. The Rangers got RBI singles by Geovany Soto in the fourth and Ian Kinsler in the fifth to put the Rangers ahead, 2-1.
"You get a guy like that on the ropes early, you want to go ahead and try to put up three or four," Porter said. "If you let those guys settle in, they're going to find a way to get deeper into the game. We had an opportunity there and were only able to come up with one."
Matt Dominguez led off the sixth inning by turning on a 3-1 pitch from Darvish and sending it over the wall in left field for his 21st home run, extending his career high, to tie the game at 2. Darvish was pulled one out later after walking Trevor Crowe.
"Our guys did a tremendous job with their at-bats today," Porter said. "They made him work for everything he had to work for, but he's a fierce competitor and he kept his team in the ballgame. He did what a starting pitcher needed to do for his ballclub."
The Astros put runners at first and third with one out in the eighth inning, but reliever Jason Frasor came into the game and got Carlos Corporan to fly out to shallow center field. Joe Nathan worked a 1-2-3 ninth inning for his 41st save.
With the win, the Rangers stayed a game behind the Indians for the second Wild Card spot in the American League with five games remaining, including one against the reeling Astros.
"Every game we play now is going to be so important," Beltre said. "We have no place for mistakes. We have to try and win every game. Now we're kind of hoping that we win and they lose so we can sneak in. There's no tomorrow for us. Today was huge."
Brian McTaggart is a reporter for MLB.com and writes an MLBlog, Tag's Lines. Follow @brianmctaggart on Twitter. This story was not subject to the approval of Major League Baseball or its clubs.