Determined CC vows to return to form in '14
Determined CC vows to return to form in '14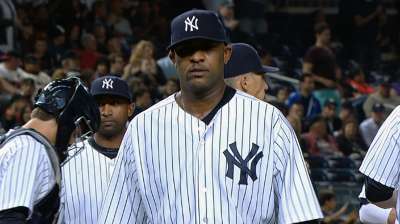 NEW YORK -- With the final chapter of his inconsistent season in the books, CC Sabathia expressed confidence that he will return to form as the reliable head of the Yankees' rotation in 2014.
"I think I'll be back to myself," Sabathia said on Tuesday. "I know a lot of people have written me off and said I've thrown too many innings and whatever, but I'll still be here and still be accountable. I'll still be the guy that signed up in 2009."
Sabathia sustained a Grade 2 strain of his left hamstring against the Giants on Friday, an injury that requires eight weeks for recovery and effectively ends his campaign.
Sabathia said that he felt his leg tighten around the second inning, but he was still able to complete seven innings of one-run ball. The start was one of Sabathia's strongest in an underwhelming year that saw him go 14-13 with a career-high 4.78 ERA in 32 starts.
"Pitching against San Francisco the other night, I felt like back to myself -- more so than any other start," Sabathia said. "It wasn't velocity -- I was 90-93 [mph] -- but just pitching inside, being aggressive, throwing fastballs in hitters' counts.
"Just going out there and being a bully. That's something I feel like I was before, and I kind of lost that this year."
Sabathia said that he gave back too many leads over the course of the season. He and pitching coach Larry Rothschild have also discussed increasing the amount of video Sabathia watches to prepare for his outings, something that Sabathia said he has not done much of over the course of his career.
"I don't think it was the year that CC probably expected he would have," Yankees manager Joe Girardi said. "He's been so good for us. He still managed to have 14 wins, he still managed to give us over 200 innings; at times, the way we talked about CC, you wouldn't have thought that those two things are possible, that his struggles would have kept him from doing that. It was a battle for him all year long."
With the Yankees on the verge of being mathematically eliminated from postseason play, Sabathia took responsibility for not having the kind of season that would have increased their place in the standings.
"I feel like I could have gave Hiro [Kuroda] some help," Sabathia said. "We would be in the position we want to be in. It's tough in that sense, and even not being able to come down the stretch and pitch against these guys when we really need it."
Bryan Hoch is a reporter for MLB.com. Follow him on Twitter @bryanhoch and read his MLBlog, Bombers Beat. This story was not subject to the approval of Major League Baseball or its clubs.