DeRosa's late heroics boost Blue Jays in 10 innings
DeRosa's late heroics boost Blue Jays in 10 innings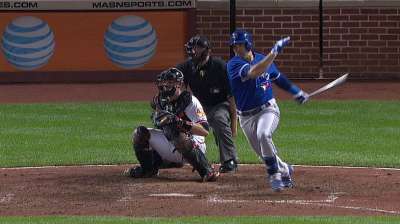 BALTIMORE -- The Blue Jays have grown accustomed to playing the role of spoiler this month, but perhaps the most devastating blow they delivered all year happened Tuesday night at Camden Yards.
Toronto appeared on its way to another loss with the club struggling to generate any type of rally against Baltimore's pitching staff, but all of that changed in the late innings. A couple of key hits and a controversial call at second base was all it took to send Baltimore packing.
The Blue Jays officially eliminated the Orioles from postseason play on Mark DeRosa's RBI single in the top of the 10th inning, while right-hander Todd Redmond had another strong outing in a 3-2 win.
"He's really had a good year for us in limited playing time," Blue Jays manager John Gibbons said of DeRosa. "He's on the downside of his career, but he has gotten some big hits along the way. The one thing he's going to do, he's going to give you a good at-bat. He may not get the results, but he's going to give you a good quality at-bat and give himself a chance."
The single to right by DeRosa came soon after a disputed call at second base. Toronto had runners on first and second with one out and right-hander Francisco Rodriguez on the mound for Baltimore.
Jose Reyes was caught wandering too far off second a Rodriguez turned and threw to second. The ball arrived at the bag well before Reyes, but he pulled back his right hand in an attempt to avoid Brian Roberts' tag while then moving his left hand into the base.
Second-base umpire Gerry Davis called Reyes safe, much to the dismay of Roberts and his teammates. The 16,772 fans in attendance let their displeasure known. Replays were rather inconclusive, but Reyes was adamant that the call was correct.
"The throw beat me, but he didn't touch me, he didn't tag me," Reyes said. "It wasn't even close, I think that was the right call by the umpire.
"I played with K-Rod, behind him for a couple of years, I know he's a little bit slow to the plate and in that sequence he was a little quick to the plate, but if he gave me one chance, one opportunity to go, when I get on base I always look to go. They picked me off, but I was lucky that I was safe."
At the time, Baltimore manager Buck Showalter certainly didn't agree. Showalter ran onto the field to protest, but the ruling stood and eventually came back to haunt the Orioles. The replays showed that Roberts clearly missed Reyes' hand, but what remained in question was whether Roberts got a piece of the jersey on his swipe into the air.
Even after watching the play on slow motion, Showalter didn't have a definitive answer, but also didn't want to blame the call for his team's loss.
"I've watched two or three replays, obviously the ball beat him by a good ways," Showalter said. "I can't definitively tell from any of them ... But Gerry's a veteran umpire and he's trying to get it right. It's unfortunate."
The call proved to be the turning point as two batters later DeRosa came through with the single to right on a first-pitch fastball from Rodriguez. It was the second hit for DeRosa, who recorded a pinch-hit single to right to tie the game at 2 in the eighth.
Toronto was able to remain in the game despite a lack of early offense thanks in large part to another strong outing by Redmond. The Blue Jays right-hander surrendered eight hits, but pitched his way out of jams except in the third, when he surrendered back-to-back homers to Roberts and Nate McLouth.
The 28-year-old Redmond continued on until the sixth, when he departed with two outs and two on. Left-hander Luis Perez entered and escaped the inning without any damage. The pair combined to limit Baltimore to 1-for-6 with runners in scoring position while stranding eight runners.
It marked the fifth consecutive start that Redmond has surrendered three or fewer runs. In fact, Redmond has allowed three runs or fewer in all but one of his 13 starts as he continues to be a surprise contributor to the rotation. His lone weakness has been an inability to pitch deep, as only four of his starts have gone at least six innings.
"I didn't have my best stuff compared to my last couple of outings, but I was able to battle, try to give the guys a chance to win. [The] offense came through and we did," Redmond said.
"That's part of pitching, you have to learn how to deal with the ups and downs. When you don't have your stuff you have to be able to battle and get out of innings, make pitches to get out of it."
Redmond deserved a win, but Toronto's offense was relatively non-existent against Tillman, who allowed just the one run on five hits while striking out nine. The Blue Jays did have a handful of opportunities, but the only blemish against Tillman came in the second when Ryan Goins hit an infield single to score Adam Lind from third.
In the end, the lack of early production didn't matter thanks to Reyes' creative slide. It's not something he practices, but pulling his right hand back proved to be the difference maker, and after the Indians' walk-off victory over the White Sox, it was also enough to eliminate the Orioles from postseason contention.
"Sometimes it just happens, you don't try to do that," Reyes said. "Most of the time when the throw beats you by that much [you're out], but in that situation I was just trying to do a trick there and it worked out. [Roberts] didn't touch me, so that was good."
Gregor Chisholm is a reporter for MLB.com. Read his blog, North of the Border, and follow him on Twitter @gregorMLB. This story was not subject to the approval of Major League Baseball or its clubs.