Francona keeps same approach in final days
Francona keeps same approach in final days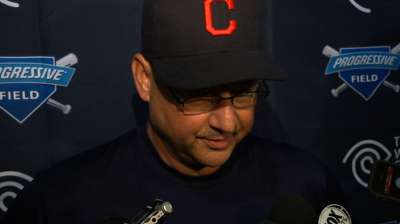 CLEVELAND -- Few managers have as much big-game experience as Terry Francona.
During his eight seasons in Boston, Francona led the Red Sox to five postseason appearances and two World Series championships. With the Indians in playoff position during the final week of the regular season, Francona's club has all significant games remaining.
Not that the manager plans to handle them any differently than he has any of the previous 156 before Tuesday.
"I don't think you can push a button and change things," Francona said. "I think that's why, from the first day of camp, you try to have an atmosphere where guys want to do the right thing. Because regardless of the importance of the game, you can't just step up your game, especially in our game. We know the importance of these games. It's pretty obvious. But you can't really change a whole lot."
Including Tuesday's series opener with the White Sox, the Indians have six contests left in the regular season. There will be one more meeting with Chicago, followed by four road games in Minnesota.
Cleveland entered Tuesday with a one-game lead on Texas for the second American League Wild Card spot, with Kansas City, New York and Baltimore also still alive in the race. The Indians trailed Tampa Bay by a game for the top spot and the home-field advantage in the Wild Card game that goes with it.
"I mean, as a manager, you may go to the bullpen earlier, things like that," said Francona, whose Indians haven't made the playoffs since 2007. "But as far as playing, it's not like you can hit the ball 20 feet farther because of a big game. You know what I mean? That's why you try to treat every game as if it's the most important game of the year, so when you do get to games like this, nothing has to change."
Mark Emery is an associate reporter for MLB.com. This story was not subject to the approval of Major League Baseball or its clubs.