White Sox drop heartbreaker in walk-off fashion
White Sox drop heartbreaker in walk-off fashion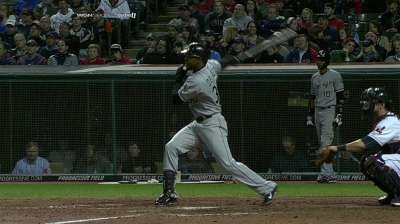 CLEVELAND -- The pitch heard around Cleveland was a 1-1 slider from White Sox closer Addison Reed to venerable pinch-hitter Jason Giambi with Michael Brantley on second, two outs in the ninth inning and the visitors trying to protect a one-run lead at Progressive Field.
Giambi's connection was a no doubt about it, raise his hands in the air in euphoric celebration sort of blast, as the veteran's drive sailed into the right-field stands. Reed crouched to the right of the mound in disbelief, watching the American League Wild Card-leading Indians going crazy and listening to the sounds of another one that got away in this difficult White Sox season.
But the 5-4 Indians victory, marking the White Sox's franchise-worst 13th straight loss to an individual team, sadly fits right in with the way this 2013 campaign has played out.
"I guess the finish probably people were expecting," said White Sox starter Hector Santiago, who earned a no-decision in his final start of the season. "Kind of the way the year went."
"There's no explanation. You just lose," said a disappointed White Sox manager Robin Ventura, after his team fell to 2-16 against Cleveland. "I'm tired of saying it. It's kind of indicative of our season. You get tired of saying it. We just lost."
Reed usually stands as the picture of postgame cool, whether he finished off one of his 39 saves from this season or had problems in one of the seven blown saves before Tuesday. It's the perfect demeanor for a closer.
After Giambi connected on his second walk-off homer against the White Sox (62-95) and produced the sixth Cleveland win in its last at-bat of this year's series, Reed was visibly upset.
"It's easy to hit a hanging slider. That's exactly what I did. He hit it out of the park," Reed said. "This [stinks]. They fought back and got us where we needed to be and I let them down."
For the first time since July 31, the White Sox took a lead in a game played against the Indians. Their 2-1 seventh-inning lead didn't even make it one pitch into the bottom of the frame, as Brantley connected for his 10th homer on the opening Santiago offering.
That lead would not be the only one for the White Sox on this night.
Trailing 3-2 in the ninth, Dayan Viciedo homered to right against Indians closer Chris Perez. After Perez struck out Gordon Beckham and pinch-hitter Jordan Danks, Alejandro De Aza went deep to right for his 17th homer and what appeared to be the game-winner.
De Aza's blast turned the raucous, playoff-hungry Indians fans into a cascade of harsh boos for Perez. All was forgiven, though, when Giambi launched his 10th career walk-off shot.
Prior to the game, Ventura was extolling Giambi's virtues in a leadership role that had very little to do with his production. After the gut-wrenching loss, Ventura talked about Giambi's ability to deliver the big hit and the rough life of a closer.
"I've seen him do that plenty of times, but those are hard outs to get," Ventura said. "You're going to have to have thick skin to bounce back and do that job. Any time you give up a run or a couple, you end up losing games. It's a tough position to be in, especially when you lose a couple. It's tough."
Santiago made his first trip to the mound since losing to the Indians at home on Sept. 13. His first season as a starter was a solid one overall, bringing his single-season innings high to 149, along with 23 starts and his 137 strikeouts.
He departed in the seventh with Mike Aviles on second and one out. Nate Jones retired Nick Swisher on a long fly ball to center, but Jason Kipnis delivered a two-out single to left to give Cleveland a 3-2 lead and left Santiago with three runs allowed on six hits over 6 1/3 innings.
"I still feel like I had innings where I did what I wanted and not kind of lost focus," Santiago said. "But there were some pitches that I didn't go after like I should have and how I wanted."
Paul Konerko and Adam Dunn had a tough night in the middle of the White Sox order for different reasons. Dunn fanned four times, with two looking and two swinging, giving him 186 strikeouts for the season.
Konerko finished 1-for-4 but fouled a Joe Smith pitch off his right knee during an eighth inning at-bat. He went down in a great deal of pain but stayed in the game, striking out. Conor Gillaspie moved from third to first in the bottom of the eighth, with Marcus Semien replacing Konerko and taking over at third base.
Ventura said that they would know more about Konerko on Wednesday. The White Sox manager also will find out how his team responds to yet another unimaginable loss in this painful season.
"We went from down and all of a sudden we hit two home runs and probably were at the highest we've been all year, excited," Santiago said. "'We got two big hits off their closer and finally looks positive, like we're going to have a win off these guys. We've been struggling against them all year and all of a sudden the game just turned around. We were up and all of a sudden we were down again."
"Elation. Joy. The fact that we won was so big," said Cleveland manager Terry Francona, providing the contrasting picture of the Cleveland postgame clubhouse atmosphere. "And then how we won makes it special."
Scott Merkin is a reporter for MLB.com. Read his blog, Merk's Works, and follow him on Twitter @scottmerkin. This story was not subject to the approval of Major League Baseball or its clubs.