Rough fourth inning sends Diamond down to defeat
Rough fourth inning sends Diamond down to defeat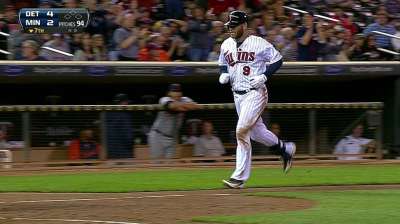 MINNEAPOLIS -- Scott Diamond's start against the Tigers on Tuesday night was essentially a microcosm of his disappointing season.
Just when it looked like Diamond had it figured it out, like he did last year when he had a 3.54 ERA in 27 starts, he ran into one big inning that derailed his outing.
Diamond pitched into the seventh inning but was doomed by three homers in the fourth as the Tigers handed the Twins a 4-2 loss at Target Field.
It's been the story of the season for Diamond, who has a 3.43 ERA in the first three innings of his starts but a 5.56 ERA in innings four through seven. It's led to a 5.54 ERA in 23 starts.
"Everything has come in clumps for me this season," Diamond said. "I've been consistently bad for one inning every start it seems like. It always seems to be in the fourth or fifth. But I'm going to continue to work and battle and haven't lost my confidence."
Detroit clinched a playoff appearance with the win, but its magic number to win the American League Central remains one. It was the second time in three days the Twins saw their opponent clinch a spot in the playoffs, as the A's also won the AL West on Sunday.
The Tigers declined to celebrate. They're waiting until they win the Central to break out the postgame champagne.
"We're not celebrating because we haven't done what we want to do," Tigers manager Jim Leyland said. "I'm happy about it. I'm selfish a little bit in my own little way, because it's four times in the postseason in eight years, and I'm proud of that."
Diamond was able to mostly work his way out of trouble, including in the second inning, when he loaded the bases with nobody out but was able to get out of the jam unscathed.
But he wasn't so lucky in the fourth, as Victor Martinez led off the inning with a blast to left and Omar Infante followed with a solo shot just four pitches later. Ramon Santiago kept the inning alive with a two-out single to set the stage for a two-run blast into the bullpen in left-center field by Austin Jackson.
"With Infante, it was a hard changeup right over the middle," Diamond said. "I thought I had Martinez punched out earlier in the at-bat, but then I left a fastball up over the plate. It wasn't a good pitch at all. And with Jackson, it was ball that was down, but he dropped the head on it. I thought it was a decent pitch, but he got it pretty well. Three home runs in one inning is surprising, but I have to do a better job minimizing the damage."
It was the only damage the Tigers could do against Diamond, who went 6 1/3 innings, giving up four runs on nine hits and one walk. He'll get one more chance to end the year on a positive note with a start in the season finale on Sunday, but he did get praise from former Twins outfielder Torii Hunter.
"Scott Diamond, he's pretty tough," Hunter said. "Reminds me a little bit of Cliff Lee. He has a sneaky fastball, good changeup, good offspeed. We were able to capitalize on some mistakes that one inning and score some runs, and we held the lead from there."
It was enough for Detroit right-hander Doug Fister, who also lasted 6 1/3 frames, surrendering two runs on eight hits and two walks with seven strikeouts.
The Twins got out to an early lead on an RBI single from Chris Parmelee in the second inning to bring home Ryan Doumit, who doubled with one out.
But Minnesota didn't score again until the seventh, when Doumit crushed a homer onto Target Plaza in right field. Fister was chased from the game after allowing singles to Parmelee and Eduardo Escobar in the seventh, but the Tigers were able to get out of the jam.
It was another failed chance with runners in scoring position, as the Twins went just 1-for-10 in those situations. They also struck out 14 times, including six times over the final two innings against relievers Bruce Rondon and Joaquin Benoit.
"We struck out 14 times -- it's hard to win baseball games when you do that," Twins manager Ron Gardenhire said. "Their guy was throwing the ball pretty good, with a great breaking ball and changeup. His ball moves all over the place. But again, 14 strikeouts makes it's tough to win a baseball game."
Rhett Bollinger is a reporter for MLB.com. Read his blog, Bollinger Beat, and follow him on Twitter @RhettBollinger. This story was not subject to the approval of Major League Baseball or its clubs.