Zim breaks up no-no in ninth, but Nats blanked
Zim breaks up no-no in ninth, but Nats blanked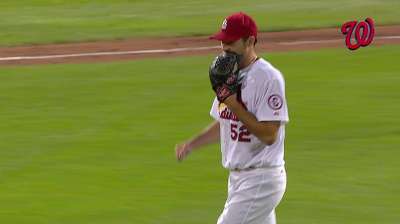 WASHINGTON -- A day after being eliminated from the National League Wild Card race, the Nationals nearly found themselves on the wrong end of history Tuesday night. Right-hander Michael Wacha had a no-hitter going before Ryan Zimmerman singled with two outs in the ninth inning as the Nationals lost to the Cardinals, 2-0, at Busch Stadium.
The last time a pitcher threw a no-hitter against the Nationals/Expos was July 18, 1999, when Yankees right-hander David Cone pitched a perfect game against the Expos at Yankee Stadium.
With two outs in the ninth Tuesday, Wacha needed only to retire Zimmerman to make history, but Zimmerman had other ideas. In his previous three at-bats, Zimmerman struck out twice and reached base on a walk. In his final at-bat, Zimmerman swung at the first pitch from Wacha and chopped the ball back toward the mound. The ball tipped Wacha's glove, shortstop Pete Kozma barehanded it and threw wide of first base, allowing Zimmerman to reach base on an infield single.
"It did nick off my glove, I'm pretty sure. Pete made a heck of a play. I guess it just wasn't meant to be," Wacha said.
Prior to Tuesday night, there had been two no-hitters in the books this season in the Majors -- by Cincinnati's Homer Bailey and San Francisco's Tim Lincecum. Wacha's effort marked the third time this season that a no-hit bit had been broken up with two outs in the ninth, joining Texas' Yu Darvish and San Francisco's Yusmeiro Petit -- both of whom were one out away from perfect games.
"I'm using my blazing speed to try to get there as fast as I can," Zimmerman joked. "That's baseball. Baseball is weird. We hit balls on the screws all night. That's … the hit that breaks it up."
Nationals manager Davey Johnson took notice that Wacha went to Texas A&M, the same college that Johnson attended in the 1960s.
"It makes Texas A&M proud," Johnson said. "I know he pitched one [heck] of a game. Had he not gone after the ball, it's probably a no-no. It was a great game he pitched. … He really located his fastball real well. He had a little split and threw hard. He stayed on the corners."
Wacha exited after allowing the single to Zimmerman, and Trevor Rosenthal got Jayson Werth to ground out to end the game.
"Wow. The stuff, the composure. Just to watch him there in the ninth," Cardinals manager Mike Matheny said. "That pitch he threw to [strike out Denard] Span there, 3-2, that changeup, pretty much exemplifies his thought process at the time. He was able to tune everything out. For a kid to do that against a lineup like this during this time of the season, hard to really get your head around it. Man, that was some kind of fun to watch."
Wacha was perfect for 4 2/3 innings until Adam LaRoche reached base after his hard-hit ground ball went under the glove of second baseman Matt Carpenter for an error. But no further damage was done.
"I felt like I had pretty good control over the fastball and the changeup," Wacha said. "I was able to flip a few curveballs in there. [Cardinals catcher] Yadi [Molina] was able to keep them off balance, and I was able to hit the glove for most of the night. It ended up being a pretty special night."
Span made an effort to break up the no-hitter in the six inning. With two outs, he tried to bunt for a base hit, but the ball rolled foul, and Span heard the boos from Cardinals fans. But with St. Louis leading by two runs, Span was going to do anything he could to get on base. If the game was out of reach, Span probably would not have attempted to bunt.
"My thought process was, the game is two-zip. It's the sixth inning. I'm trying to get on base. I'm trying to get on … and Zim [could have hit] a home run. I get on base and he hits a home run. One swing of the bat, it's a tie game."
Zimmerman also reached base when he walked to start the seventh inning, but he was left stranded at first. After LaRoche walked to start the eighth inning, he was quickly erased on a double-play ball hit by Wilson Ramos.
On most nights, Nationals left-hander Gio Gonzalez would have likely picked up the win, but he ended up losing his eighth game of the season. He pitched seven innings and allowed two runs on six hits.
The Cardinals scored their first run in the third inning. After he doubled with two outs, Carpenter scored on a single by Shane Robinson. An inning later, Molina made it a two-run game when he doubled to right-center field, scoring Matt Adams.
After the game, Gonzalez spent most of the time giving Wacha credit for pitching a great game.
"He pitched great. I'm not going to take that away from him," Gonzalez said. "He did a great job attacking the strike zone, going after a very powerful lineup. To see what he did was very impressive to watch."
Bill Ladson is a reporter for MLB.com and writes an MLBlog, All Nats All the time. He also could be found on Twitter @WashingNats. This story was not subject to the approval of Major League Baseball or its clubs.