Dinged Shields on target for final regular-season start
Dinged Shields on target for final regular-season start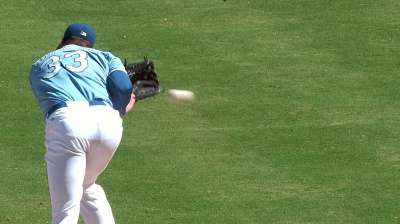 SEATTLE -- James Shields' right elbow is OK, and he's set for his final regular-season start on Friday against the White Sox.
"He's a little sore, a little bruised, he's fine," manager Ned Yost said. "It got him pretty good, though. But he was going to battle through that, no matter what."
When Shields was drilled in his elbow by David Murphy's liner as he led off the Rangers' third inning on Sunday, Yost feared the worst: His staff leader would be done for the day.
"I was initially worried because it sounded like you threw a ball against that wall," Yost said, pointing. "You could tell it hit bone."
However, he tried to remain upbeat, at least outwardly. While head athletic trainer Nick Kenney checked Shields' elbow, Yost walked up to the mound and was confronted by a line of his infielders -- Mike Moustakas, Alcides Escobar, Emilio Bonifacio and Eric Hosmer.
"I looked at 'em and said, 'What are you guys doing? Fixin' to take a team picture?' " Yost said. "And they laughed and they go, 'No, we're worried, Skip.' I said, 'Don't worry, he'll be all right.' And he was."
Only after tossing a couple of way-high warmup tosses that increased the concern.
"But the pitches had life on them -- shhh-zing, they had life on them," Yost said. "I don't know if he read my look or what, but he looked at me and said, 'I'm fine. I just need to get my release point down.' "
He did with a few more tosses. Between innings, Kenney put heat packs on Shields' elbow and kept it moving. Shields went on and completed eight innings of the Royals' 10-inning, 4-0 win.
Dick Kaegel is a reporter for MLB.com. This story was not subject to the approval of Major League Baseball or its clubs.