Drama king: Maxwell has played the part before
Drama king: Maxwell has played the part before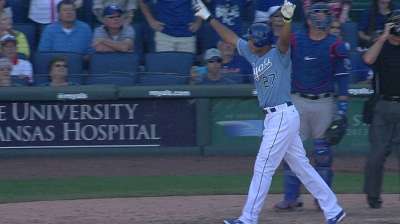 SEATTLE -- The pitch that Justin Maxwell managed to lift out of the shadows on Sunday at Kauffman Stadium certainly pushed him into the bright light of focus for Kansas City fans.
It doesn't get much more dramatic than a 10th-inning grand slam, off former Royals closer Joakim Soria no less, to beat the Rangers, 4-0, and keep KC's playoff hopes alive.
Maxwell has been a bit under the radar since being acquired from the Astros on July 31, although he made a fine early impression with a pinch-hit, 12th-inning home run to beat the Mets on Aug. 3 at New York.
Grand slams are part of his past, too. His first Major League hit was a pinch-hit grand slam for the Nationals on Sept. 11, 2007, at Florida. He hit a walk-off slam for the Nationals against the Mets on Sept. 30, 2009, the season's last home game at Washington.
"Google it. It's on YouTube. I've watched it a bunch on YouTube," Maxwell said with a grin after his wallop closed the Kauffman Stadium season. "My son has watched it on YouTube, too."
Kauffman's late afternoon shadows, which crossed between the mound and the plate, presented a problem.
"With the shadows there, I was trying to get ready early and I'd never faced Soria before. But I knew, with the shadow there, the ball was going to jump on me, so I was just trying to get ready a little earlier," he said.
The 3-2 pitch landed 421 feet away near the Royals Hall of Fame.
Maxwell revealed a little secret -- he sometimes watches his earlier wallops before games.
"A lot of guys like to watch themselves do well; they call it kind of like a highlight reel before you go out on the field, so you leave the locker room on a positive note," he said. "So you always want to see yourself doing well. So I think that helps a little bit."
Maxwell also told a little story about a bases-loaded situation in April this year with the Astros that didn't turn out very well. He remembered that his 4-year-old son, Jaidon, made his daily request for a home run.
"Right before I got out of the car that day, he says, 'Dad, I want you to hit a grand slam,' and that night, sure enough, I came up with the bases loaded," he said. "I had like a big swing, tried to do too much, the ball was in the box and I tried to hit it and it hit my hand and broke it."
The broken hand put him out for 51 games.
Maxwell has enjoyed the atmosphere since the get-go with the Royals.
"Like how much fun they had in the clubhouse and the dugout, how they kept it loose with what they were playing for," he said. "And I think that's the way to go about it. When you're uptight and nervous all the time, you're not going to do your best. So you try to keep a relaxed clubhouse and a relaxed dugout and try to have some fun."
Dick Kaegel is a reporter for MLB.com. This story was not subject to the approval of Major League Baseball or its clubs.