Dunn out of lineup for third straight game
Dunn out of lineup for third straight game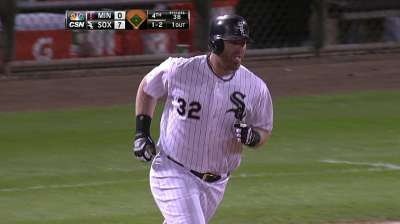 CHICAGO -- Adam Dunn has been out of the White Sox starting lineup for three straight games, partially because he had looked a little tired, according to White Sox manager Robin Ventura.
Ventura will have Dunn back in action Tuesday night in Cleveland against Ubaldo Jimenez. But Dunn understands at-bats can disappear for extended periods down the stretch with a team out of contention looking at young players.
"Just giving a lot of guys some really good looks against some really good teams," said Dunn of the young players getting frequent playing time. "That's the good part about, if there is a good part, evaluating what you have against good competition.
"That's also the bad part. Some people have to sit and watch. I understand, and it's good to kind of evaluate the kids, too."
Dunn chose not to put his general manager's hat on when asked about the young players, aside from stating that he has been impressed and that most of the players who were called up "look like they belong and like they are not out of place."
As for Dunn himself, his third year with the White Sox featured three months from June to August where he was as steady and productive as any hitter in the lineup. He also had dismal months to fight through in April, May and a 7-for-54 showing in September with two homers and four RBIs. Surprisingly, Dunn said the feeling at the plate hasn't been much different from when he's on target to when he's off the mark.
"You know, there's not, other than there were a few little things that's different from when I was swinging the bat good to when I wasn't," Dunn said. "For the most part, I felt pretty good all year.
"We've got a good base, a good foundation to go into the offseason and build on. Me and [White Sox hitting coach] Jeff [Manto] have continued to try and do the same thing. Hopefully in Spring Training, everything will pick right back up after having a full year to really feel in a pretty good place."
The White Sox have not lost confidence in Dunn, who has one year remaining on a four-year, $56 million deal.
"He had a stretch from early June until the start of this past month where he was really one of the better hitters in the American League," White Sox general manager Rick Hahn told MLB.com about Dunn in a recent interview. "He was getting on base, he was hitting home runs. He was using the other side of the field a little bit more than we've seen the last couple of weeks.
"A player with his track record historically tends not to lose that overnight, much less a guy who showed you for a three-month stretch in the midst of the most recent season that he can be an impact hitter."
Scott Merkin is a reporter for MLB.com. Read his blog, Merk's Works, and follow him on Twitter @scottmerkin. This story was not subject to the approval of Major League Baseball or its clubs.