Konerko gets advice from Ripken about future
Konerko gets advice from Ripken about future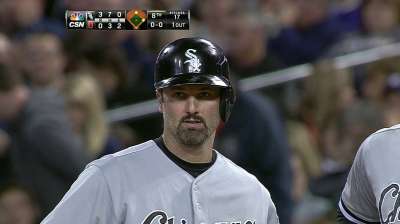 CHICAGO -- Paul Konerko ultimately will make the final call on what his future holds after this 15th season as part of the White Sox comes to a close. But the cerebral captain is not above seeking a little advice from players who have been there in making this decision.
That list includes Hall of Famer Cal Ripken, Jr., who interviewed Konerko with his brother, Billy, Friday on the MLB Radio Network. The question posed to Konerko during the informative interview dealt with Andy Pettitte's retirement and morphed into where Konerko stands.
"Right now, it's getting through these next nine days. Then go home and try to figure it all out," Konerko said. "I'm looking for advice from anybody. What do you guys got for me?"
Billy deferred to his brother, who played all 21 season with the Orioles. Cal told Konerko that as you become older as a player, winning becomes even more important and admitted that he couldn't have gone through a rebuilding process in Baltimore the year after he retired.
"Take some time off and clear your head and look at where you are and what you want to do," Ripken Jr. told Konerko. "I wouldn't leave the game earlier than you want to.
"Most people say, 'Well he's not what he was,' and you are measuring him against what he was. You are still deserving and one of the best players on the roster. Don't short yourself on that. Decide on what you want to do and don't let anyone else decide."
And Konerko's response to these true words of wisdom?
"All right," Konerko said. "I like it."
Scott Merkin is a reporter for MLB.com. Read his blog, Merk's Works, and follow him on Twitter @scottmerkin. This story was not subject to the approval of Major League Baseball or its clubs.