Confidence remains high as tough season nears end
Confidence remains high as tough season nears end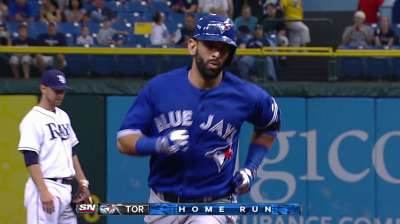 CHICAGO -- When the Blue Jays acquired Jose Reyes, Mark Buehrle and Josh Johnson from the Marlins, added an ace in R.A. Dickey and signed free agent Melky Cabrera last November, Toronto was thought to be a contender in a tough American League East division at the start of the 2013 season.
But injuries to key players including Reyes, Johnson, Cabrera, and Jose Bautista, coupled with starting pitching struggles, have the team in last place in the AL East, with a record of 71-84 going into Monday's makeup game against the White Sox from a June 12 rainout.
As the Jays entered the final week of the regular season, there was optimism about 2014, but also a feeling that while injuries were a factor this year, that isn't an excuse for failing to reach the team's goals.
"I think we're a legitimate contender [going into next season]," said Bautista, who has been sidelined since Aug. 21 with a left hip bone bruise. "Unfortunately, we didn't have the results this year … but that's not to say that the quality needed on the players' side is not here.
"We just need to step our game up a little bit and be accountable for our actions and, at the same time, hold ourselves a little bit to a higher degree of responsibility of coming out here and playing a better team effort and getting results done. There's no excuses, we just have to figure out a way to do it."
Toronto's starting rotation entered Monday with a 4.77 ERA, and part of the reason for that may have been injuries to members of the staff, including Johnson, who missed the entire month of May with right triceps inflammation and has been out since Aug. 7 with a right forearm strain.
"Of course [injuries played a role], but that sort of stuff happens every year," Bautista added. "Good winning teams figure out a way to win regardless of how many injuries there might have been. We did have a lot of injuries, but I don't think we had two or three key guys being hurt at the same time other than on the starting pitching side.
"Obviously [starting pitching] is one of the important aspects of our ball club … and some can point out that was our biggest weakness this year. But like I said, winning teams figure out a way to win, and I guess not only can I use the word 'team' there, but I can say winning organizations figure out a way to win even when some of the starting pitching or some of the starting players in the everyday lineup get hurt."
Manager John Gibbons wouldn't go into specifics, but he said there's some work that needs to be done this offseason to improve the club.
"We still like the core group here," Gibbons said. "But there's got to be some changes to shore some things up and to get better. I'm not going to go into that, but the status quo is probably not going to be good enough. Every year you identify an area you could probably upgrade a little bit, so we'll just kind of go from that."
Bautista agreed that there's room for improvement.
"There should be enough depth within the organization [to] have enough players accessible to hopefully come in and do a good job," he said.
Manny Randhawa is an associate reporter for MLB.com. This story was not subject to the approval of Major League Baseball or its clubs.