Mariners welcome back Miller to lineup
Mariners welcome back Miller to lineup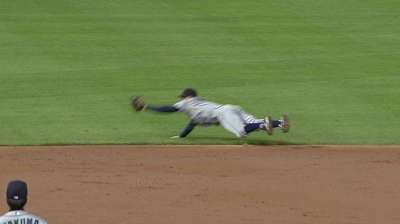 SEATTLE -- Brad Miller returned to the Mariners lineup on Monday for the first time since straining his left hamstring during Seattle's 4-1 victory over the Cardinals on Sept. 14. The rookie resumed his role as the team's leadoff hitter and everyday shortstop, a razor-thin position for the team after the trade of Brendan Ryan to the Yankees in early September. Carlos Triunfel filled in at shortstop during Miller's absence.
Miller collected a hit as a pinch-hitter in Sunday's loss to the Angels. He's hitting .262 with six home runs and 31 RBIs over 70 games in his inaugural season.
Manager Eric Wedge said that he was impressed with the way Miller conducted himself in his absence, engaging with the game from the bench and taking note of the starters' play.
"I think it's always healthy to be able to watch a big league game," Wedge said. "He's a student of the game himself anyways. He's not someone that sits by and doesn't pay attention. He's going to watch and learn and give us a chance to talk a little bit from time to time."
Jacob Thorpe is an associate reporter for MLB.com. This story was not subject to the approval of Major League Baseball or its clubs.