Hundley's three-run blast leads Padres over D-backs
Hundley's three-run blast leads Padres over D-backs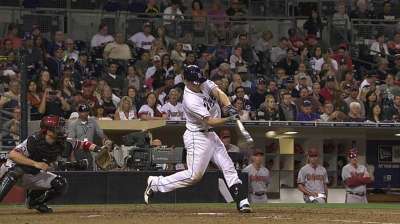 SAN DIEGO -- Nick Hundley isn't to the point yet where he's ready to put a tidy bow on the 2013 season and call it an unmitigated success for himself, at least not with six games still remaining on the schedule.
"When the year is over, I'll step back and evaluate it," Hundley said.
He'll certainly have a lot to think about, as he added another ribbon to his bounce back season when he hit a three-run home run with two outs in the sixth inning to lead the Padres to a 4-1 victory over the D-backs before a crowd of 15,869 at Petco Park.
Coming off a lost 2012 season, where he was sidelined by underperformance and a knee issue that led to season-ending surgery, Hundley's blast off D-backs starter Brandon McCarthy (5-10) was his 12th of the season. His previous career high was nine in 2011, and his 43 RBIs tie his 2010 mark for his most in a season.
"It was a rough year for him on the health side," said Padres manager Bud Black of Hundley's miserable 2012 season, when he hit .157 in 58 games with three home runs and 22 RBIs. "It's good to see him contribute as much as he has this year."
Hundley isn't the only Padres player finishing strong, as starting pitcher Eric Stults -- winless in five starts last month -- allowed one run in 6 1/3 innings. He allowed seven hits, walked two and struck out five.
Stults is 2-0 with a 2.60 ERA in his last three starts, and reached 10 wins for the first time in his seven-year career. He'll likely get one more start, this weekend in San Francisco.
"We all take pride in trying to finish the year strong," Stults said. "After the All-Star break, I didn't throw the ball like I wanted."
On Monday, facing the D-backs for the fourth time this season (he is 2-2 against them), Stults got back to using his fastball and changeup, while also mixing in a slider and curveball to keep them guessing.
"I think he's throwing better here, I mean he threw a great game and we had some opportunities. I think guys got frustrated," said D-backs manager Kirk Gibson about Stults. "He was throwing the ball where he wanted to throw it. We had lots of opportunities."
No opportunity was bigger for the D-backs than the second inning, when Matt Davidson, Wil Nieves and Cliff Pennington started the inning with three straight singles. Stults struck out McCarthy, then got Adam Eaton to hit a ground ball to third that resulted in an out -- and the D-backs' lone run -- before getting A.J. Pollock on a comebacker to end the inning.
"His 10th win, that's a good number for a pitcher, to get in double figures," Black said. "He has been a consistent guy, day in and day out, from the start of Spring Training. … A guy we don't have to worry about."
The Padres' bullpen trio of Nick Vincent, Luke Gregerson and Huston Street combined for the final eight outs, with Street earning his 33rd save with a scoreless ninth. Vincent struck out Paul Goldschmidt swinging with two men on to end the seventh.
There was a scary moment for the Padres in the seventh inning when D-backs reliever Heath Bell -- a former All-Star closer for the Padres -- hit Ronny Cedeno in the helmet with an 89 mph fastball. Cedeno remained on his feet and eventually left the game with trainer Todd Hutcheson.
"He's a little woozy," Black said. "He's got a little bit of a headache. It hit him pretty square. We'll monitor him overnight."
Bell felt awful about the incident.
"I feel bad. I tried to apologize, and I actually texted their head trainer over there and told him I didn't mean to and ask him how he was. He said he was OK, just a little fuzzy," Bell said. "I was trying to throw a sinker down the middle and the ball just got away. I mean, I never want to hit someone in the head like that, even if I was really [mad] at him. Ronnie didn't do anything. It was just an accident, but that's why we wear helmets."
Corey Brock is a reporter for MLB.com. Keep track of @FollowThePadres on Twitter. This story was not subject to the approval of Major League Baseball or its clubs.