McCarthy's late slipup costs D-backs in loss
McCarthy's late slipup costs D-backs in loss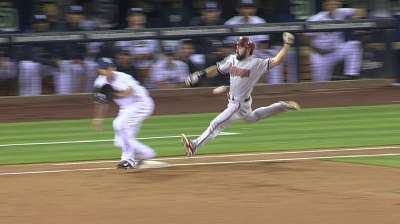 SAN DIEGO -- One foot to the left and Brandon McCarthy's outing likely would have ended quite differently.
Instead, Nick Hundley's drive down the left-field line hit about a foot to the right of the foul pole, so rather than a harmless strike it was a three-run homer that propelled the Padres past the D-backs, 4-1, on Monday night at Petco Park.
"I got [a curveball] in the middle of the plate," Hundley said. "[McCarthy's] thrown good against us all year, working both sides of the plate, staying off the barrel."
Even when McCarthy was able to keep the Padres from hitting the ball hard, he wasn't able keep them off the bases.
It was just one of those nights for McCarthy.
In the first, after a leadoff single by Chris Denorfia, McCarthy retired the next two hitters and jammed Chase Headley with a 90 mph sinker. Headley, though, was able to fist the ball back through the middle as Denorfia scampered home to give the Padres a 1-0 lead.
The D-backs got the run back in the second, when Adam Eaton grounded into a fielder's choice to score Matt Davidson. But that was all the offense the D-backs could muster after putting up 39 runs in their previous five games.
Left-hander Eric Stults (10-13) won for the second straight start, as he allowed one run on seven hits and two walks in 6 1/3 innings.
Stults has faced the D-backs four times this year. In the two games he pitched in Phoenix, he allowed 11 runs (nine earned) in 11 1/3 innings. In his two starts against the D-backs in San Diego, he allowed two runs in 15 1/3 innings, including a complete game shutout on June 14.
"I think he's throwing better here," said D-backs manager Kirk Gibson. "I mean, he threw a great game and we had some opportunities. I think guys got frustrated. He was throwing the ball where he wanted to throw it. We had lots of opportunities.
The D-backs struggled with runners in scoring position, going 1-for-10, and left eight runners on base.
McCarthy (5-10) matched Stults until the sixth.
With one out in that inning, McCarthy allowed a broken-bat single to Headley and a single to Tommy Medica.
One out later, McCarthy jumped ahead of Hundley with a called strike on a fastball, but when he came back with a curve, Hundley jumped on it and sent it out of the park.
"I felt like I executed a lot of pitches and then a few that I didn't, including one big one, and that ruins the whole rest of the outing," McCarthy said. "I felt like I was moving along pretty well and keeping it together, and then just one big mistake. The fact that it stayed fair, I don't care. It's just a bad pitch in a bad situation. You're trying to throw a curveball to set something up or maybe get a bad swing on it. Just not a good pitch."
In a scary moment in the bottom of the seventh, Padres shortstop Ronny Cedeno was hit in the helmet by a Heath Bell fastball. Cedeno did not fall to the ground, but he was removed for a pinch-runner.
Bell said he was not trying to hit Cedeno, and he texted an apology to Padres head athletic trainer Todd Hutcheson, who was with Cedeno.
"I was trying to throw a sinker down the middle and the ball just got away," Bell said. "I mean, I never want to hit someone in the head like that, even if I was really [mad] at him. Ronnie didn't do anything. It was just an accident, but that's why we wear helmets. I don't have anything against him and I don't think he has anything against me."
When the D-backs came to bat in the eighth, Padres reliever Luke Gregerson narrowly missed hitting Aaron Hill with a pitch, prompting home plate umpire Hunter Wendelstedt to issue a warning to both benches.
"The umpires are doing what they're told," Gibson said. "Their guy got hit in the head so they threw one in tight to Hill just to send a message back. It's part of baseball and the umpires are told to do that, so they're just doing their jobs."
Steve Gilbert is a reporter for MLB.com. Read his blog, Inside the D-backs, and follow him on Twitter @SteveGilbertMLB. This story was not subject to the approval of Major League Baseball or its clubs.