Raise the Jolly Roger! Pirates return to playoffs
Raise the Jolly Roger! Pirates return to playoffs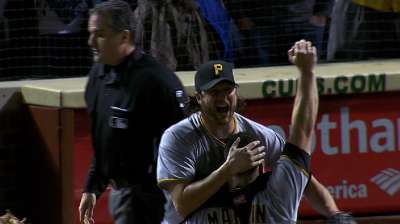 CHICAGO -- Twenty-one years ago, Mike LaValliere didn't get his man. Monday night, Russell Martin got his -- and as a direct result, the Pirates riffed on Andrew McCutchen's vow, "I'm playing for October."
The Bucs will be playing in October. They confirmed their reservation with a 2-1 win over the Cubs on Starling Marte's ninth-inning homer, coupled with Washington's loss in St. Louis. When, where and against whom yet to be determined -- with the hunt for a division title still alive.
But go crazy, Pittsburgh. Your Pirates have brought postseason baseball back to its early '90s home, to where the Allegheny and the Monongahela merge to form the Ohio.
"This has been a great run," McCutchen said between sprays of the "Gloria Ferrer Royal Cuvee" bubbly, "and it's great that we get to continue."
"At the beginning of the year, the only people who believed in the Pittsburgh Pirates were the Pittsburgh Pirates," said Neil Walker, the hometown hero. "We got ourselves an opportunity now, and that's all we can ask for."
In the ultimate inning of the ultimate game of the 1992 National League Championship Series, Atlanta's Sid Bream slid under LaValliere and became the icon of the Pirates' 20-year depression.
Monday night, bracing for the throw after Justin Morneau had picked up the loose ball in the middle of the infield, Martin blocked Nate Schierholtz's path to the plate, tagged him and, when home-plate umpire Mike DiMuro made the out call, triumphantly raised his right hand with the ball in it.
So the Pirates have a new icon: Martin on his knees, holding up that ball. Before, that is, he leaped to his feet and threw it almost into the left-field bleachers.
Although, one could also go with Marte, an instant after connecting off deposed Chicago closer Kevin Gregg with two outs in the ninth to snap a 1-1 tie. He dropped his bat and raised both arms, leaving the batter's box like Rocky getting to the top of the stairs at the Philadelphia Museum of Art.
"Yes, I'm trying to hit a home run there," Marte said. "Biggest hit I ever had."
"Any time a game ends at the plate, it's going to be exciting. It definitely was for me -- and rewarding," said Martin, the oldest hand in the clubhouse at these celebrations, having partied with both the Dodgers and the Yankees. "These guys seem to have it down pretty good. This organization has waited a long time, and it's nice to get this feeling back in this clubhouse."
The Nationals' 4-3 loss to the Cardinals -- about 20 minutes after the Pirates' game ended -- officially punched the Pirates' ticket into the postseason for the first time since 1992.
Three-and-a-half miles from the world headquarters of the Morton Salt Co., Charlie Morton tried to salt away the Bucs' postseason fate with his second straight brilliant start.
Morton blanked the Cubs on three hits for seven innings, and had thrown only 89 pitches when he was removed in favor of Mark Melancon.
In reenacting his setup role of the first half of this season, Melancon surrendered a game-tying RBI single to pinch-hitter Donnie Murphy.
Tony Watson notched the first out of the bottom of the ninth before Jason Grilli entered to nail down his 32nd save of the season -- with a lot of help.
"Why should it be simple?" Grilli said, grinning. "That's the way it's been all year. I could've scripted it a little bit better, but it worked out, so it's all good."
Grilli walked his first man, Dioner Navarro, and Logan Watkins ran for him. Schierholtz shattered his bat in hitting a grounder that Morneau smothered and turned into a force at second. Ryan Sweeney then singled, and the manic finish was on:
The ball skipped off Marlon Byrd's glove ... McCutchen was right behind him to retrieve it, but his throw sailed over the first cutoff man and bounced through the second ... Third-base coach David Bell waved for Schierholtz to keep going ... Morneau retrieved the ball and fired to Martin. Game over.
"It's a moment that you never forget. I tried to throw that last pitch a million miles by him, but he got enough bat on it to get it in there," Grilli said of the final pitch to Sweeney.
"I happened to be in the right place at the right time," a modest Morneau said. "It's much needed for these guys. It's been a rough few years, but this is what it's all about."
Walker made the last play of the Bucs' prior seminal win -- No. 82, on Sept. 9 in Arlington -- and got the first blow of this one.
His homer with one out in the first gave Pittsburgh a 1-0 lead. It was Walker's fourth in five games and 14th of the season -- matching the season high he'd set last year.
Walker's opposite-field shot, as the saying goes in the dugouts, got Jeff Samardzija's attention. The hirsute right-hander didn't give the Bucs anything else during his stint, shortened to six innings by the four walks and seven strikeouts that had his pitch count at 94.
"I certainly didn't think that one run would last until the eighth," Walker said, "And then Marte comes up ... you can't ask for a bigger hit than that. Or a bigger pitching performance than what Charlie gave us."
Samardzija hitting his spots put Morton on the spot. He handled it impressively.
Morton's one major crisis developed with two outs in the second, when Brian Bogusevic followed a walk of Sweeney with a liner into the right-field corner for a double.
With the runners on second and third, Darwin Barney did get in a good lick, but his liner carried out to left fielder Jose Tabata for the third out.
The Cubs wouldn't get another man on base until Barney -- with two outs and an 0-2 count -- was hit by Morton's pitch in the fifth. And they did not get another man in scoring position until he was out of the game.
Barney, incidentally, was the National League-leading 15th batter hit this season by Morton, in only 109 innings. Pitching inside apparently is as critical to his success as the sinker: The only previous time Morton hit batters in double figures was 2011, when he plunked 13, in 171 2/3 innings, on his way to his best season to date, winning 10 games with a 3.83 ERA.
Tom Singer is a reporter for MLB.com and writes an MLBlog Change for a Nickel. He can also be found on Twitter @Tom_Singer. This story was not subject to the approval of Major League Baseball or its clubs.