Choo returns in a big way to help Reds clinch
Choo returns in a big way to help Reds clinch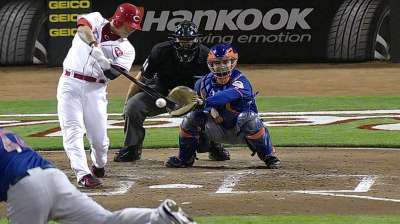 CINCINNATI -- The sore left thumb that kept Reds center fielder Shin-Soo Choo out of action for two straight games appeared just fine on Monday against the Mets.
The Cincinnati leadoff hitter went 3-for-6 on the night, and none of his hits were bigger than his walk-off single in the 10th inning that gave the Reds a 3-2 win and a spot in the postseason. Facing left-hander Sean Henn, Choo took a 1-0 slider and nearly put it in the seats in left field for the game-winning hit, capping his return in a big way.
"We had a lot of opportunity tonight," Choo said. "A left-handed pitcher on the mound, I just had a little different approach than the right-hander. I followed my approach and that's why something good happened."
For Choo, it was difficult to sit on the bench watching on Saturday and Sunday against the Pirates, and he was excited to be back in action on Monday.
"Especially in this situation, last three games playing one of the best teams in the National League [in the Pirates]," Choo said. "I can't help the team sitting in the dugout."
Choo injured his thumb sliding into first in the ninth inning of Friday night's dramatic 6-5 win over the Pirates. He was available to pinch-hit on Sunday but didn't play. Before making his return on Monday, Choo said the thumb felt fine, and he didn't expect it to be an issue going forward.
"[I'm] not like 100 percent," Choo said. "But already in the last two days I was hitting in the cage and tried throwing the ball in the cage. There were no problems, so why not [play]?"
In 149 games this season, Choo is now batting .285 with a .423 on-base percentage and 54 RBIs. His 109 walks lead all Major League leadoff hitters, and his 21 home runs rank second behind only Oakland's Coco Crisp (22).
Jeremy Warnemuende is an associate reporter for MLB.com. This story was not subject to the approval of Major League Baseball or its clubs.