Green prepping to play the hot corner in '14
Green prepping to play the hot corner in '14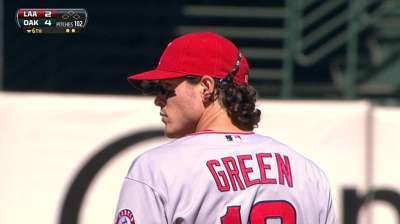 ANAHEIM -- Odds are, Grant Green won't play third base in a game for the Angels this season, but the infielder has continued to work at the position.
Aside from pregame drills, Green's only experience at third came during a brief period with Triple-A Sacramento, but the 25-year-old feels a strong offseason will set him up to compete for the position next season.
"It's coming along," Green said. "Still a little bit new, but it's coming along. Slowly, but surely."
Although he has solely played second base since the Angels called him up, Green spent his collegiate career and the bulk of his time in the Minors at shortstop so the left side of the infield is nothing new to him.
However, the adjustments to third have centered around the longer throw and the speed of the game.
"The angle on the throws is different from what I've experienced before," Green said. "and knowing that when you get a hard hit ball, you have more time [to collect it] than up the middle."
William Boor is an associate reporter for MLB.com. This story was not subject to the approval of Major League Baseball or its clubs.