Richards' victory streak ends in loss to A's
Richards' victory streak ends in loss to A's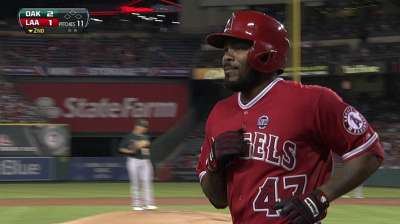 ANAHEIM -- Since Garrett Richards rejoined the Angels' rotation in late July, he has put together arguably the best stretch of his career.
Richards has been making a strong case to be part of the rotation next season, but Monday night's 10-5 loss to the Athletics at Angel Stadium was not one for his personal highlight reel.
The right-hander went just 4 2/3 innings -- allowing seven runs on eight hits as the Angels lost back-to-back games for the first time since Sept. 8-9.
"I just didn't do my job tonight," Richards said. "I didn't give us a chance to win, but I'm not discouraged by it. I'm going to keep moving forward."
Richards is just 25 years old and although he had been pitching well, growing pains are simply part of the process young players need to go through.
"It's part of a learning curve," manager Mike Scioscia said. "It's part of a guy getting his first opportunity. I think if you look at everything that Garrett's done since he got back in the rotation, you have to be excited about the progress he's made in understanding his talent, and tonight's one we are going to turn the page on."
Richards had won his last three decisions and posted a 2.90 ERA over his previous 11 starts. After retiring the first five batters he faced, Richards appeared poised for another strong outing.
Then, the flood gates opened.
Over the next seven batters -- a period that saw the Athletics score five times -- Richards allowed a single to Josh Reddick, an RBI double to Seth Smith, an RBI single to Stephen Vogt, a single to Coco Crisp, a single to Josh Donaldson and a three-run home run to Jed Lowrie.
"At times, he had trouble putting pitches together and part of that was his fastball command," Scioscia said. "Garrett got behind a lot of counts. At times, he showed a good changeup, at times, he showed good breaking pitches, but never really got in-sync to put pitches together to put hitters away."
It may have been just a day after Oakland celebrated winning the American League West, but Oakland manager Bob Melvin didn't see any letdown from his team -- a group that has scored 49 runs over its last five games.
"You know what, they play the same regardless every day, whether it's a tough loss, a win, it doesn't matter," Melvin said. "They come out with the same mindset every day. We've been swinging the bats well recently and that continued again today."
Howie Kendrick, who has hits in eight of nine games since returning from the DL, did his best to keep the Angels in this one -- going 2-for-4 with four RBIs.
Kendrick led off the second with a home run -- his first since July 6. An inning later, Kendrick hit a bases-clearing double off the right-field wall.
"I was just trying to get a pitch I could hit and hit it hard," Kendrick said. "That's a tough part of the field to go out of, but I'm just glad it fell in and hit it off the wall."
However, Brandon Moss gave the Athletics some cushion with a two-run home run in the fifth and Eric Sogard added an RBI single in the sixth.
Winning pitcher Tommy Milone struck out eight, holding the Angels to five hits and two earned runs in 5 1/3 innings.
The Angels have dropped 13 of their last 17 home games against the Athletics and will have to win their final six games if they hope to finish the season with a winning record.
"We're going to try to win every game and we'll add them up at the end," Scioscia said. "It's always nice when you can shoot for a goal and you can reach it. Definitely from where we were three, four weeks ago to where we are now, we've shown the character that's in that clubhouse. These guys are all playing hard."
William Boor is an associate reporter for MLB.com. This story was not subject to the approval of Major League Baseball or its clubs.