A's power closer in playoff home-field chase
A's power closer in playoff home-field chase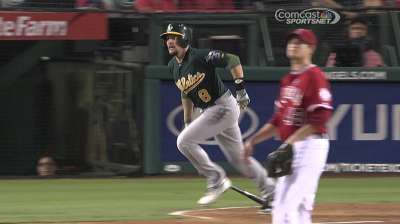 ANAHEIM -- As they tried to tell anyone who would listen on Sunday, just moments after locking up the American League West title, the A's aren't done. A division championship sure isn't going to satiate their appetite for more.
So it wasn't really much of a surprise to find that manager Bob Melvin's day-after lineup looked a heckuva lot like his previous ones. All of his regulars, minus Yoenis Cespedes, were in play against the Angels on Monday night, and all they did was continue scoring at a hasty pace in a 10-5 victory.
"You know what, they play the same regardless every day, whether it's tough loss, a win, it doesn't matter," Melvin said. "They come out with the same mindset every day. We've been swinging the bats well recently, and that continued again today."
The red-hot A's have won five straight and 14 of their last 17 to improve to a season-high 31 games over .500, placing them just one game behind the idle Red Sox for the AL's best record, which, if conquered, would secure the A's home-field advantage throughout the playoffs.
At the very least, the A's are in prime position to host the Tigers in the first round, after Detroit lost to the Twins on Monday night to help narrow Oakland's magic number for home-field advantage in the AL Division Series to just two.
But the A's focus remains much simpler than that.
"We're just going to go out there and do what we've done all year," said Jed Lowrie. "Wherever that puts us, that's where we end up."
As is becoming custom, the A's hit more home runs -- one each from Lowrie and Brandon Moss to give them 70 over their last 44 games. They've belted at least two in six consecutive games, matching an Oakland record.
Moss has 10 home runs in his last 30 games and a team-leading 28 on the year, while Lowrie has three in his last 25 at-bats and 15 this season, just one shy of his career high set last year with the Astros.
As homer-happy as the A's are these days, they've also sent out plenty reminders that they can score in other fashions, too. They did it in the second inning by way of a handful of two-out hits, with Josh Reddick starting the rally with a single. Seth Smith, making just his fifth start of the month, followed with an RBI double, and Stephen Vogt knocked in the second run with a base hit.
Melvin's platoon system was on display at its finest in the sixth, when Chris Young stepped up to the plate in place of Smith, with Angels starter Garrett Richards out of the game. Facing lefty reliever Buddy Boshers, Young led off the inning with a double and later scored on Eric Sogard's one-out single.
Adding on in late innings, a component of Oakland's game that was missing at times this year, is becoming a staple in their wins. They did it again Monday by posting two runs in the ninth, giving them 49 total runs scored over their last five games.
Back-to-back hits from Coco Crisp and Josh Donaldson, the latter whom secured his 56th multihit game, which is one shy of the Oakland record, set up Alberto Callaspo's RBI single. Reddick contributed again with a sacrifice fly.
"That's been the key to having some room to breathe," Melvin said. "We won a lot of close games this year and put a lot of pressure on the bullpen late, but here recently we've been adding on."
Richards lasted just 4 2/3 innings, giving up seven runs along the way. Oakland lefty Tommy Milone, getting the nod to ensure Oakland's five regular starters an extra day of rest, got through six, allowing five runs, but just two earned, with eight strikeouts -- including three against Mike Trout.
Howie Kendrick did the most damage, improving to 9-for-20 lifetime off Milone with a second-inning solo shot and a three-run double in a lengthy third that started with a costly throwing error from Sogard.
Milone struck out Kendrick to begin the sixth, before allowing a triple to Josh Hamilton that effectively ended his night, though one more run would be added to his line after Mark Trumbo hit a sacrifice fly off reliever Jesse Chavez.
"I don't know if it was being sent down, that being kind of a turning point, but I feel a lot more comfortable," said Milone, who has allowed just three earned runs in his last 12 1/3 innings. "Especially not really being in the rotation, whenever I get a chance to start, I want to be able to prove myself and do well and help the team."
Grant Balfour, pitching for the first time since Wednesday, walked two and needed 25 pitches to get through the ninth inning but didn't allow a run, closing the book on Oakland's 94th win. That matches their season total from last year, and they still have five to play in the regular season.
"We've done a great job of staying steady," said Lowrie, "and it carried over to today, even with the celebration from last night."
Jane Lee is a reporter for MLB.com. Read her blog, Major Lee-ague, and follow her on Twitter @JaneMLB. This story was not subject to the approval of Major League Baseball or its clubs.