Lohse set to reach 190-innings incentive
Lohse set to reach 190-innings incentive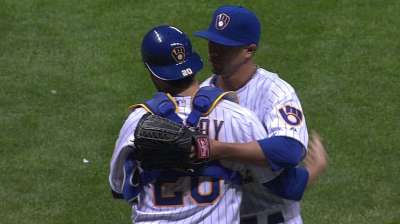 ATLANTA -- Brewers right fielder Norichika Aoki earned a $250,000 bonus when he made his 140th start of the season on Monday, and right-hander Kyle Lohse is poised to earn $350,000 more when he records his first out on Wednesday against the Braves.
The three-year, $33 million contract Lohse signed at the end of Spring Training includes an annual $350,000 incentive for reaching 190 innings pitched.
"If I do my job all year, that's a level of innings I should get," Lohse said. "It hasn't been a major concern. It's not a benchmark I'm shooting for because of incentives. I would have liked to get to 200 [innings], and I know if I would have had the extra start I would have. But there are more important things, like getting to see some of the young guys."
Lohse lost one start in September when the Brewers moved to a six-man rotation. He is 10-10 with a 3.51 ERA in 31 starts this season and leads the team with 189 2/3 innings pitched. Lohse's only speed bump came in May, when he was 0-4 with a 6.51 ERA while dealing with discomfort in his right elbow, perhaps a side effect of his severely shortened Spring Training.
"I felt like I was pretty consistent minus that," Lohse said. "I'm personally proud that I prepared well enough on my own that I could go out and throw 190 innings. I know what I need to do. But, obviously, my goals are more team-oriented than personal stats or whatever, and we didn't reach that this year."
Adam McCalvy is a reporter for MLB.com. Read his blog, Brew Beat, and follow him on Twitter at @AdamMcCalvy. This story was not subject to the approval of Major League Baseball or its clubs.