Mets hang tight with Reds, but fall on walk-off in 10th
Mets hang tight with Reds, but fall on walk-off in 10th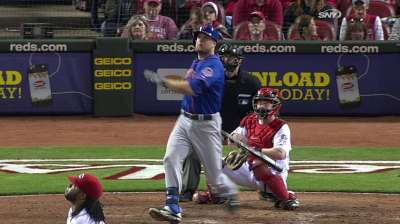 CINCINNATI -- It was not the largest crowd of the year at Great American Ball Park, nor even particularly close. But with a late-September chill in the Ohio air, Monday's implications were clear: the Reds were playing for something significant.
The Mets, of course, have not been competing for anything meaningful in quite some time. But that did not quell their desire in a 3-2 walk-off loss to the Reds, which propelled Cincinnati into the playoffs for the second straight season. With most of the 21,269 fans in attendance hanging on every pitch, Shin-Soo Choo hit a walk-off single in the 10th inning to swat away New York's spoiler efforts.
"They're sitting where they're sitting because they've got a very, very good team," Mets manager Terry Collins said. "We played them tough. We just couldn't muster up enough runs. But we played them very, very well."
The winning rally began when Devin Mesoraco hit a one-out line drive that glanced off third baseman David Wright's glove, allowing the catcher to reach base safely. Mesoraco scampered to third base on Derrick Robinson's single, which floated just out of first baseman Lucas Duda's reach. That brought up Choo, who launched a Sean Henn pitch deep enough to plate the winning run.
"We had a lot of opportunity tonight," Choo said. "A left-handed pitcher on the mound, I just had a little different approach than the right-hander. I followed my approach and that's why something good happened."
Before the game, Collins noted that "this is where the education part of having young players is going to be fun to watch," eager to see how his team would react. So despite the loss, it must have been thrilling for Collins to sit on the dugout bench and witness his team taking a tie game into the ninth, relying on significant contributions from Duda, Gonzalez Germen and several other young players.
"That's what we've been doing," Collins said. "We've got holes. Everybody's got some holes. But I'll tell you one thing you can't ever say, and that is we don't play hard. We come out and we play nine innings or 10 innings or 12 innings or 20 innings, and we play hard. They care. The guys do the best they can."
Reds starting pitcher Johnny Cueto was his usual sharp self, holding the Mets to one earned run -- a Duda solo homer -- in seven innings. A second, unearned run came in the third inning, when Duda's sacrifice fly capitalized on third baseman Todd Frazier's throwing error.
Duda's homer took Aaron Harang off the hook for an ill-deserved loss, considering the veteran right-hander's six innings of two-run ball. Though the former Reds pitcher walked six batters and struck out only one, he settled down appreciably after wriggling out of a bases-loaded jam in the second.
The only runs against Harang came earlier that inning, when Choo singled home Frazier and Joey Votto walked with the bases loaded. It was not until the ninth inning that the Reds ratcheted up the pressure again, loading the bases on a double and two intentional walks before David Aardsma could wriggle out of the jam.
"That's what's made them tough the last few years," Harang said of the team for which he played from 2003-2010. "I was lucky to come up and see a lot of those guys make their debuts and see how they've really matured as players and come into their own. It's always fun for me to come back and watch that, especially facing them, too."
The Mets had a prime opportunity to take their first lead in the eighth, rapping out consecutive hits to open the inning. But Wright struck out looking and Duda hit into a double play, keeping the game knotted at 2.
Cincinnati is two games back of the Cardinals in the National League Central, trying to avoid the Wild Card game with either the Cards or Pirates. The Reds and Pirates officially clinched postseason berths minutes after Choo's walk-off when the Nationals lost in St. Louis.
Anthony DiComo is a reporter for MLB.com. Follow him on Twitter @AnthonyDicomo. This story was not subject to the approval of Major League Baseball or its clubs.