Braves fall, lead Cards by a half game for home field
Braves fall, lead Cards by a half game for home field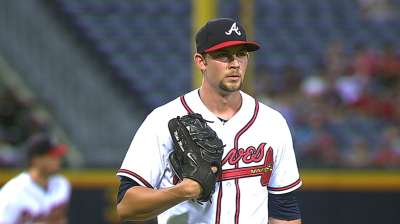 ATLANTA -- The Braves earned a raucous celebration in the visitors' clubhouse at Wrigley Field after locking up the National League East title on Sunday, but they went quietly in their triumphant return home, where Brewers starter Marco Estrada made quick work of the offense to stall Atlanta's pursuit of home-field advantage for one night.
Starter Mike Minor gave up two home runs to put his offense in an early hole it could not escape, and the Braves dropped the first game of their final homestand of the regular season on Monday night with a 5-0 loss to the Brewers.
In one of his last opportunities to impress as the Braves work on lining up their playoff rotation this week, Minor suffered a reprisal of the struggles giving up the long ball that have bookended his solid 2013 campaign. Carlos Gomez, Jonathan Lucroy and Aramis Ramirez homered for the visitors to drop Atlanta's Major League-best home record to 52-23 and hold the Braves' magic number for clinching home-field advantage throughout the National League playoffs at five. The Cardinals' 4-3 victory over the Nationals brought St. Louis to within a half-game of the Braves for the NL's best record.
Milwaukee starter Marco Estrada stumped the Braves' bats with seven shutout innings, yielding only two hits to a lineup missing Freddie Freeman and Brian McCann in the middle of the order. Freeman received the day off, becoming the first of multiple Braves regulars slated to get a breather over the final week with the division wrapped up, while McCann was excused from the team on Monday after joining his wife, Ashley, for the birth of the couple's second child.
"He didn't give us anything to hit whenever it mattered, and so tip your cap to him," catcher Evan Gattis said of Estrada. "I thought he had a good game, and I thought he located pitches well and changed speeds."
The Brewers built their lead in the early innings by jumping on a pair of first-pitch fastballs from Minor, who has allowed seven homers in his last five starts. Gomez cranked a heater to left in the top of the first to give the Brewers an early 1-0 lead with his 22nd home run of the season. In the fifth, after Norichika Aoki moved into scoring position with a double down the right-field line, Lucroy went the other way with a fastball up in the zone for a two-run shot just over the right-field fence.
Barring a meltdown in his final start of the regular season this weekend, Minor will finish short of the 26 round trippers he gave up in 2012, but the left-hander's recent scuffles and the 13 home runs he allowed in the first three months of this season have taken some of the shine off an otherwise solid campaign.
"I don't think it's been great, so I think it kind of shows," said Minor, who is winless in his last five starts. "I thought I pitched pretty well all year and then now, I'm kind of struggling a little bit. I'm getting by, I'm just giving up too many home runs."
The night was not without its highlights for the Braves. Center fielder Jason Heyward ended the top half of the sixth with a diving catch, laying out to deny Yuniesky Betancourt a base hit. Heyward received a rousing ovation from the crowd in his return to Turner Field after spending a month on the disabled list with a fractured jaw. He is scheduled to play the full nine innings for the third straight day on Tuesday before getting a break on Wednesday to continue adjusting to his return to everyday action.
"If he's not [100 percent], then he's pretty darn close," Braves manager Fredi Gonzalez said. "I don't know if there's too many center fielders in the Major Leagues who even attempt to make that play."
Andrelton Simmons produced the Braves' first scoring opportunity of the game with a two-out triple in the second inning when he roped a line drive into left field that skipped past a diving Khris Davis and rolled to the wall, but he was stranded on third after Estrada retired Joey Terdoslavich on a harmless groundout to shortstop.
Two innings later, Estrada issued a pair of walks to start the fourth inning and threw a wild pitch that allowed both runners to move to second and third, but he escaped unscathed by striking out Chris Johnson, Gattis and Simmons in order.
"The guys that came up that inning, we knew if we got the changeups down, they would be good pitches to them," Estrada said. "I'd get ahead, and once we had two strikes, my goal was to bounce them and see if we could get a swing out of it."
Johnson began the day chasing Rockies right fielder Michael Cuddyer for the National League batting title and did not help his cause with an 0-for-4 effort and his second consecutive multi-strikeout game, lowering his season average to .327.
The frustration of a stagnant offensive effort boiled over in the seventh when Braves manager Fredi Gonzalez was ejected for arguing with home-plate umpire Angel Hernandez after Hernandez ordered Paul Janish back to the batters' box, ruling that Janish did not move out of the way to avoid being hit on the left leg with an Estrada breaking ball, the first pitch of his at-bat.
"He didn't move. He just stuck the knee out, and you can't do that," said Lucroy, who was behind the plate. "To me, it was no question. Angel told me: 'That's a tough call to make. No one ever calls it.' I said, 'Yeah, but that one was pretty obvious.'"
Janish popped out to second to end what constituted a serious threat for the Braves on a trying night at the plate.
"You get a chance to get two guys on, and you can either go Elliot Johnson or [Freeman] there and see what happens, but I don't even want to talk about it," Gonzalez said. "Angel's not all wrong about that call, but I thought that ball was deep enough in that batters' box."
The Brewers responded in the next half-inning with Ramirez's home run followed by a rare throwing error from Simmons that brought Sean Halton around to score from second on an infield single, underscoring Monday's reversal of fortune between one fourth-place team and one bound for the playoffs.
Eric Single is an associate reporter for MLB.com. This story was not subject to the approval of Major League Baseball or its clubs.