Orioles suffer double whammy in loss
Orioles suffer double whammy in loss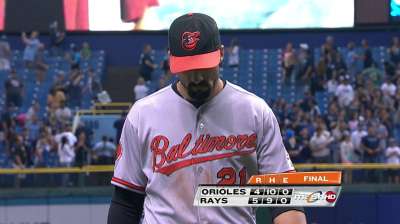 ST. PETERSBURG -- It's hard to imagine a worse scenario for the Orioles, who lost Monday's game and a pair of infielders, including the devastating scene of third baseman Manny Machado crumpling to the ground with a gruesome left knee injury.
The O's, who fell on James Loney's pinch-hit walk-off homer off Tommy Hunter, ran their losing streak to five with a 5-4 defeat to the Rays, now trail the Indians by five games for the second American League Wild Card, with just six games remaining.
"Crazier things have happened in six games," said manager Buck Showalter, who put on a brave face for a dejected clubhouse that also saw Alexi Casilla suffer a blow to the head that kept the infielder in a local hospital for overnight monitoring. "You know, from being around our guys, it's -- I don't want to say depressing, it probably is, but more of what's going on there now is teammate-to-teammate with two guys who have gone down in the line of the fight."
"It's frustrating, because our guys really left it all out on the field. It's a group that the city of Baltimore and our fans can feel real proud of. A couple of unfortunate injuries on the field, and that's where my heart is right now, regardless of the way the game ended."
Machado was carted off the field in the top of the seventh inning, after hitting a one-out single and landing awkwardly on his leg, which caused him to immediately go down to the ground and scream in pain. Machado left on a stretcher while getting a standing ovation from the crowd, and he will get an MRI in Baltimore on Tuesday, with the expectation being that he's out for the season.
The Orioles lost the lead and Casilla in the bottom of the inning, as he slammed his head into Nick Markakis while diving to catch Wil Myers' bases-loaded blooper in right field. The impact of the blow, which brought Casilla to the ground, popped the ball out of his glove and allowed a pair of runs to score, snapping the Rays' 0-for-18 mark with the bases loaded.
"It was a tough four days and it culminated in a lot of bad stuff today," said second baseman Brian Roberts, who hit a solo homer. "Watching Alexi out there, I've dealt with that one, too, and that's scary just as well. Hopefully he doesn't have any lingering effects too much from it. But the losses and the injuries and being six days away [from the end of the season] and feeling like we had a good chance coming into [St. Petersburg], and to walk out with this kind of feeling is tough for everybody."
Righty Darren O'Day, who entered the seventh with a pair of inherited runners from Brian Matusz, walked Evan Longoria to load the bases for Myers' fateful single. Casilla, who got up slowly under the supervision of the team's training staff, finished off the bottom of the seventh but didn't return after that.
"It's tough, because we played well today and didn't quite get the breaks. And on top of that, we got some real bad breaks," catcher Matt Wieters said of a once-promising road trip that ended 4-6. "We got to regroup and win what we can when we go back home. But most importantly, right now our prayers are just with the guys that got hurt today."
The pair of injuries headlined an incredibly unfortunate game for the O's, who watched a pair of eighth-inning doubles get wasted with Wieters tagged out trying to go to third and Jamey Wright retiring J.J. Hardy and Ryan Flaherty, who struck out on a bizarre check swing that hit him to end the fourth, to strand Nate McLouth's one-out double that came on a bunt.
"That was probably one of the weirder games that I've been a part of," Longoria said. "It's unfortunate for Manny. It's tough to see that. He's a great player and hopefully he bounces back. I know he will. But it's a tough day for them."
Lost in the loss was Chris Davis' 52nd homer of the year, with the first baseman giving his club its first lead since the seventh inning on Friday night, in sending Tampa Bay starter Chris Archer's 1-0 fastball to deep center field for a two-run homer in the fourth.
The Orioles made their mark on Archer in that frame, working him for 37 pitches and scoring another run on Hardy's two-out single to left field. Roberts negated the Rays' run in the bottom of the fourth inning with a solo homer to start the fifth. One out later, Archer exited in favor of reliever Wesley Wright.
O's lefty Wei-Yin Chen, who also went 4 1/3 innings, didn't fare much better. Chen allowed two runs on six hits and two walks in the 83-pitch outing. Righty Josh Stinson came on and tossed 1 2/3 scoreless innings, stranding a pair of runners in the fifth.
"The check swing obviously hurt us," Showalter said of Flaherty's at-bat. "Obviously they missed that call, but it's kind of secondary now when you lose two good people. The heck with what kind of players they are. They're two good young men who represent the Orioles very well, and our fans I know are very proud of the way they left it out on the field."
"You watched the game. The game's not always fair, and today's one of those days."
Brittany Ghiroli is a reporter for MLB.com. Read her blog, Britt's Bird Watch, and follow her on Twitter @britt_ghiroli. This story was not subject to the approval of Major League Baseball or its clubs.