Jennings day to day with tight left hamstring
Jennings day to day with tight left hamstring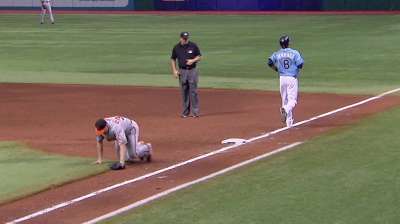 ST. PETERSBURG -- After leaving Sunday's 3-1 win over the Orioles in the sixth inning with a tight left hamstring, Desmond Jennings is listed as day to day.
"We don't think it's anything awful," manager Joe Maddon said. "I don't know exactly when we'll get him back out, but again, tomorrow we'll re-evaluate to see where he's at. And we'll see."
Maddon talked to Jennings on Monday.
"He was not overtly sore or hurting at all," Maddon said. "But nevertheless, he did feel something [Sunday]."
Jennings bunted for a hit to lead off the sixth Sunday, but he was quickly pulled after a visit by the team trainers. Sam Fuld entered the game for Jennings and moved to third on a walk and a wild pitch before scoring on Matt Joyce's sacrifice fly.
Jennings did not start Friday night's game due to neck stiffness, but he entered the game in the ninth and eventually scored the winning run in Tampa Bay's 5-4 win over Baltimore in 18 innings. He then played center field on Saturday.
Maddon sounded optimistic Jennings would be back before the regular season ends.
"We'll see," said Maddon, who started Fuld in center on Monday afternoon. "It wasn't awful, like I said. He didn't feel badly coming in today."
Bill Chastain is a reporter for MLB.com. Sam Strong is an associate reporter for MLB.com. This story was not subject to the approval of Major League Baseball or its clubs.