Nats' playoff hopes dashed after loss to Cards
Nats' playoff hopes dashed after loss to Cards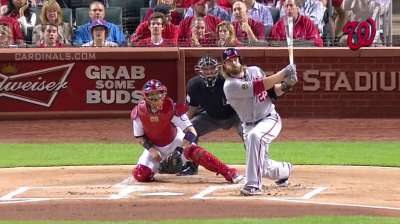 ST.LOUIS -- During the Winter Meetings last year, after watching his team agree to terms with right-hander Dan Haren, Nationals manager Davey Johnson made a bold prediction: "World Series or bust."
It looks like "bust" as the Nationals were edged by the Cardinals, 4-3, at Busch Stadium on Monday and were eliminated from the National League Wild Card race. The Pirates defeated the Cubs, 2-1, while the Reds defeated the Mets, 3-2, in extra innings.
The Nationals found out they were out of the playoff picture about 10 minutes after Cincinnati and Pittsburgh won their games and reached the postseason.
"We created this expectation, nobody else. Two years ago, if you would have said the Washington Nationals in the postseason, people would have laughed you out of town," Nationals shortstop Ian Desmond said. "The group that is in here, for the most part, to a man, are the guys that created this atmosphere, created the expectations. I'm proud to be a part of that."
After the game, Johnson was fighting back tears, but vowed that his team would play hard and become spoilers by preventing the Cardinals from winning the National League Central Division title.
"I don't feel too good right now," Johnson said. "We gave it a good fight. We just came up short. It was going to be a tough haul. I'm proud of the guys, they battled. Now, we are spoilers. It's not over for us. We still have a say in this thing."
Entering Monday's game, the Nationals had the best record in baseball (30-12), dating back to Aug. 9. The team had a sense that it was too little too late.
"If we would have played like [like this] early on in the year, we probably wouldn't be in this situation. But this is what it is and we have to deal with it," Desmond said.
But most of the damage was done during the first half the season. The Nationals didn't get any production from their bench, while the bullpen was average, at best. They didn't have a quality lefty out of the bullpen until late in the second half when Xavier Cedeno started getting lefties out on a consistent basis in September.
The offense struggled so badly during the first half that they dismissed Rick Eckstein as the hitting coach. Then there were the injuries. The biggest blow came when Bryce Harper missed more than a month after banging into the right-field wall at Dodger Stadium during the middle of May.
"We dug our own hole. We just couldn't dig out of it," Johnson said. " We didn't do the things we were capable of early. We came back strong. That's baseball. I love those guys -- great talent, make makeup. Just didn't get it done. We fixed some problems that we had -- early on, going into the season. I like the balance of this club. I think going forward, it's going to be very positive."
The Nationals got off to a good start against Cardinals right-hander Adam Wainwright in the first inning, when Jayson Werth hit a two-run home run to give Washington an early lead. From the second inning until he left with no outs in the eighth inning, Wainwright was almost untouchable, allowing three runs on seven hits.
"That's a tough Nationals team over there playing hot baseball right now," Wainwright said. "They are coming into every game and can't lose a game and are playing hard. I knew they were going to be hard. Just a great team win. Everybody did their part again.
"The first inning, I never think my curveball is going to get hit out of the park. It's not a terrible pitch. Denard Span hit a good sinking fastball down and away for a hit. Sometimes, a great team is going to put together a couple of runs like that. You just have to do your best to limit the damage and keep pitching."
Right-hander Tanner Roark started for Washington, and he wasn't as invincible as he was in his previous three starts. He lasted five innings, allowed four runs on nine hits and struck out five batters. St. Louis cut the lead by one in the first inning, when Matt Carpenter scored on the single by Yadier Molina.
Three innings later, the Cardinals would tie the score at 2. David Freese scored on a bloop single to right field by Shane Robinson.
In the following inning, with Jon Jay on first, Carlos Beltran hit a 3-1 pitch over the right-field wall to give St. Louis a two-run lead.
Roark knew what was on the line, but he didn't have that fastball command like he did in his previous starts.
"I was getting behind hitters a lot. When you do that with a good team, they are going to hit your mistakes when you get them back in the count. They are going to battle like they did tonight," Roark said.
The Nationals, who got a run back in the eighth, dropped their record to 84-73.
"A month ago, you could have said we are out of this thing, but then we fought our way back in. We took it somewhat down to the wire. We just came up short," said first baseman Adam LaRoche. "We played so bad early, waiting for this thing to come around. We did have it in us to play good baseball."
Bill Ladson is a reporter for MLB.com and writes an MLBlog, All Nats All the time. He also could be found on Twitter @WashingNats. This story was not subject to the approval of Major League Baseball or its clubs.