Brewers tack on runs early to beat Cards in finale
Brewers tack on runs early to beat Cards in finale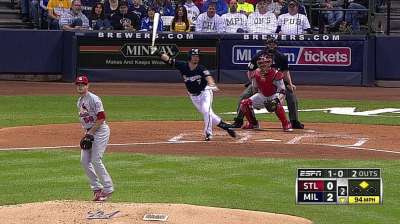 MILWAUKEE -- When Cardinals first baseman Matt Adams stepped to the plate in the ninth inning Sunday night, the Brewers' dugout took a collective gulp.
"To say the least, it wasn't real comfortable," Brewers manager Ron Roenicke said.
Adams, who hit two-run home runs in St. Louis' wins over the Brewers on Friday and Saturday, entered the batter's box as the potential winning run in a 6-4 game, staring down a pitcher he owned.
Brewers closer Jim Henderson, who allowed two home runs to Adams in two lifetime meetings, stared back with an unusual sense of calmness.
"When Adams came to the plate, I was excited for it," said Henderson, who gave up a go-ahead two-run homer to Adams on Friday night. "I was ready to challenge him again, and go right at him. He's gotten me a couple times, but I was willing to take him to the end there."
Henderson went all the way there as he froze Adams with a 2-2 fastball to strand runners on first and second base and help the Brewers avoid a weekend sweep with a 6-4 win at Miller Park.
The Brewers picked up just their fifth win against the Cardinals this season compared to 14 losses, and it was just their second win in 10 games at Miller Park against their National League Central rivals.
Henderson, who threw his last of five fastballs to Adams "as hard as I could," was just happy to get the three-game series over with.
"I don't like this series," Henderson said. "I didn't like this series from Day 1 with the Cardinals fans in our house and everything. They're a tough team, and they're going to the playoffs for a reason, but it always feels good to beat them."
Henderson held on after surrendering three consecutive two-out singles to Matt Carpenter, Jon Jay and Carlos Beltran at the top of the Cardinals' order, setting up Adams with one last chance.
But Henderson finished off Adams to pick up his 26th save and help the Brewers finish off their final homestand with a 6-4 record with two road series remaining in Atlanta and New York.
"Wins are just really hard to get, especially against the good teams," Roenicke said. "They're hard to get. These guys, all of them right through the lineup, they're professional hitters and they do not give up at-bats."
"Gives the fans something to look forward to next year," said Henderson, who helped the Brewers finish their home schedule with a 37-45 record -- the lowest win total since they finished with the same record in 2004. "A lot of the young guys played well."
One of those players was Wily Peralta, who battled through a blister on the index finger of his right throwing hand to deliver five-plus solid innings.
Peralta cruised through most of the first five innings, only yielding a Carpenter solo home run in the third. But in the sixth, he allowed singles to the first three Cardinals, setting up St. Louis' best scoring opportunity. But Donovan Hand relieved Peralta and limited the Cardinals to sacrifice flies from Shane Robinson and starting pitcher Joe Kelly before striking out Carpenter to end the inning and keep the score at 4-3.
Peralta finished with five innings pitched, allowing three earned runs on five hits, while walking five and striking out three.
Roenicke said Peralta's wildness was in large part due to the blister that gave him problems a month ago that resurfaced in the second inning.
"Yeah, it got worse," said Peralta of the blister that he noted should not cost him his final start of the season. "I was trying to stay with it as long as I can, but trying to push it and I pushed it a little too much and it got worse. But you know, I'm glad that I made it to the fifth and helped the bullpen a little bit."
Four of the Brewers' eight hits came in the first two innings when they jumped on Kelly for a 4-0 lead. An Aramis Ramirez single and a Carlos Gomez groundout brought home runs in the first, and the Brewers took advantage of two St. Louis errors for two more runs in the second.
With one out, Martin Maldonado reached when third baseman David Freese mishandled a chopper in the middle of the infield. After Peralta bunted Maldonado to second, Norichika Aoki doubled him home with his eighth hit of the series. Scooter Gennett followed with a bunt right back to Kelly that was thrown wide of first base, allowing Aoki to score and the Brewers to take a 4-0 lead.
The Brewers tacked on two insurance runs off Kelly in the seventh inning -- which loomed large in the ninth -- on a Gennett RBI double and a Jonathan Lucroy sacrifice fly.
In two starts and three relief appearances spanning 15 innings against the Brewers this season, Kelly has allowed 10 earned runs. Against the rest of the league, the right-hander has allowed 28 earned runs in 103 2/3 innings.
"We make that many mistakes and we're lucky to have been that close," Cardinals manager Mike Matheny said. "For the most part, our defense has improved. It seems like they come in bunches, if we have an error we end up having a couple that turn into runs. From here on out, we have to play clean baseball. They know that. When you don't do it, you have to make up for it somehow."
The Cardinals fell just short of making up for their three errors in the ninth inning, helping the Brewers end their home slate on a high note.
"Going into next season who knows what's going to happen if they're going to have us projected to be fourth or fifth [in the NL Central], but that's OK," Henderson said. "We've got no pressure going in. We know these guys now. These young guys are familiar with the hitters and their pitchers, and we can really build on this."
Kevin Massoth is an associate reporter for MLB.com. This story was not subject to the approval of Major League Baseball or its clubs.