Nats walk off in home finale, keep slim hopes alive
Nats walk off in home finale, keep slim hopes alive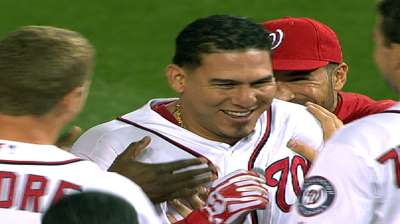 WASHINGTON -- Manager Davey Johnson watched from the steps of the Nationals' dugout as the ball bounced off Chris Coghlan's glove and pinch-runner Eury Perez touched the plate.
When his last home game as manager of the Nationals ended in a 5-4 walk-off win Sunday night, the 70-year-old skipper shook hands with his coaches and high-fived his players. He did a television interview. Then with two fist pumps and a smile, he dipped into the dugout one last time at Nationals Park.
"We definitely wanted to get a win for him," Denard Span said.
"Davey obviously means a lot to all of us in here," Ian Desmond added. "He's done a great job. He's really brought out the best in us. Hopefully if one day I get the opportunity to manage, I can do it just like he does."
The Nationals sneaked past the Marlins in the second game of a split doubleheader to give Johnson a fond farewell in his last home game as manager. They also bounced back from a 4-2 loss in the first game Sunday afternoon.
The same resilience the Nationals have shown to stay in the playoff race over the past month was again on display, as they fought through an early deficit to win in walk-off fashion.
After the Marlins tied the game in the eighth, Jayson Werth hit a leadoff double and was replaced by Perez. Desmond was intentionally walked. Johnson called for a successful double steal, and Wilson Ramos brought home the winning run when Coghlan made an error to end the game.
"It's a tough one. I just came up on it too quick," Coghlan said. "I saw him break home, and I came up on an easy ground ball, a ball I catch all the time. I just came up on it."
The win did not do much to improve the Nationals' playoff odds, however. While the Reds and Pirates have not mathematically secured the two Wild Card spots in the National League, Washington's loss Sunday afternoon made it a mere formality. The Nats are five games behind both Cincinnati and Pittsburgh, with six games remaining.
"I think you ask anybody in here, and I think we beat ourselves way too many times this year," starter Stephen Strasburg said. "There's no doubt that we have the ability to get to the playoffs and go deep into the playoffs. Just for one reason or another, we just weren't able to stay consistent."
Strasburg returned to the mound on Sunday after missing each of his past two scheduled starts with right forearm tightness. In his first start in two weeks, the right-hander allowed three earned runs on six hits over six innings. He also recorded the 500th strikeout of his career in the fifth inning, reaching the milestone in fewer innings than all but two pitchers since 1900.
Johnson said that Strasburg's forearm felt fine and that the right-hander will make his next scheduled start.
"I think for me, there's a lot of things that I've learned this year," Strasburg said. "A lot of improvements to be made. And I'm going to work harder than I did the last offseason, and that's all you can really do."
Sunday night's game was like so many others before it. The Nationals fell into an early 2-0 hole. They loaded the bases with no outs in the fourth inning, but couldn't score. The bullpen, specifically Tyler Clippard, had a one-run lead but couldn't hold on.
Yet the night also had its fair share of milestones. In addition to Strasburg's 500th strikeout, Desmond slapped a single to left field in the seventh and then stole second base, giving him 20 home runs and 20 steals this season. He is one of two Nationals to ever accomplish the feat, which he also reached in 2012. Alfonso Soriano is the other.
"It's pretty cool," Desmond said. "It's definitely a blessing. I wasn't always headed down this road in my life, and I'm just fortunate and try to take every day as a blessing and just try to do the best I can every day."
Still, the most meaningful milestone was Johnson's. Earlier Sunday afternoon, the Nationals honored their manager with a video tribute highlighting his career accomplishments and thanking him for his contributions to the organization. It began with an image of Tinker Field, where Johnson served as a bat boy for the Washington Senators when he was 10 years old.
Johnson tries to avoid feelings of nostalgia. He wants to live in the present, not the past or the future. But more than 3,800 Major League games after his days at Tinker Field, Johnson found himself reflecting on his life. He is managing the team that he grew up supporting.
Johnson recalled this story in his postgame news conference, then admitted that the end to his season -- and tenure as Nationals manager -- had snuck up on him.
"But we ain't finished," Johnson said. "I take nothing for granted. I still think we've got a good shot. We need to win 'em all, we do. Hey, I've been two runs down, one strike away and we've come back. So don't lose the faith."
Johnson laughed as he walked back to his office, closing the door behind him. Around the corner, the Nationals packed their bags for a final six-game road trip, the odds not in their favor, but the hope still alive.
Tom Schad is an associate reporter for MLB.com. This story was not subject to the approval of Major League Baseball or its clubs.