Strasburg third fastest to reach 500 strikeouts
Strasburg third fastest to reach 500 strikeouts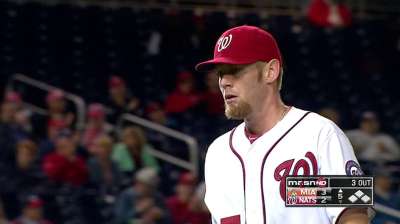 WASHINGTON -- Nationals pitcher Stephen Strasburg reached a milestone on Sunday night when he caught the Marlins' Christian Yelich looking at strike three to end the top of the fifth inning at Nationals Park. The strikeout was the 500th of Strasburg's career, making the 25-year-old the third fastest in Major League history to hit that threshold.
After getting Yelich, Strasburg had 500 K's in 426 1/3 innings. Only former Cubs fireballers Kerry Wood (404 2/3 innings) and Mark Prior (421 2/3) have gotten there quicker since 1900, according to the Elias Sports Bureau.
Strasburg picked up his first strikeout in his big league debut at Pittsburgh on June 8, 2010, getting the Pirates' Lastings Milledge swinging in the first inning. Last year, he finished seventh in the National League with 197, despite pitching only 159 1/3 innings. The righty entered Sunday with 181 strikeouts in 170 innings this year, or 9.6 per nine innings.
He claimed No. 500 after getting Yelich into a 1-2 count, then pumping a 95-mph fastball to the outside corner.
Andrew Simon is a reporter for MLB.com. Tom Schad is an associate reporter for MLB.com. This story was not subject to the approval of Major League Baseball or its clubs.