Roenicke less optimistic about starting Nelson
Roenicke less optimistic about starting Nelson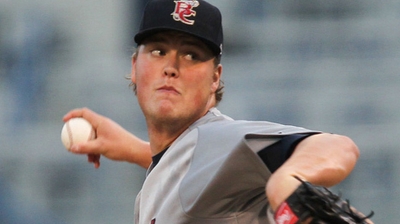 MILWAUKEE -- It is looking less and less likely that Brewers pitching prospect Jimmy Nelson will get a start before the season's end.
Brewers manager Ron Roenicke sounded less optimistic Sunday after maintaining the last two weeks that Nelson might get a start in the team's final series of the year against the Mets in New York this weekend.
"We may have a hard time working that in," Roenicke said. "We'll know a lot more in the next couple of days. What we kind of thought may happen probably won't, so we'll go on a new plan of action.
"I should know in a couple days. Maybe by tomorrow I'll get a better idea."
Nelson, the Brewers' top prospect according to MLB.com, will remain in the bullpen, where the right-hander has pitched five scoreless innings since his September call-up from Triple-A Nashville.
Roenicke said he is not concerned with the amount of time since Nelson's last start, which was on Aug. 31 with Nashville.
"Not so much that because we got him two innings [on Wednesday against the Cubs]," Roenicke said. "We want to get him some innings, so whether it's out of the bullpen or whether it's starting a game, I would like to see him out there. If we can get him three, four more innings, I think that'd be great."
Kevin Massoth is a reporter for MLB.com. This story was not subject to the approval of Major League Baseball or its clubs.