With new role in mind, Masterson throws sim game
With new role in mind, Masterson throws sim game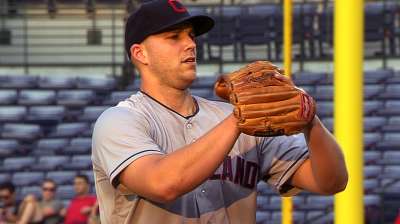 CLEVELAND -- With the Indians eyeing a spot in the postseason, Justin Masterson is not overly concerned with how he returns to the pitching staff. The big right-hander is just thankful for feeling healthy, and he is eager to return in any way possible, as soon as possible.
"I'm just excited to get back in a game," said Masterson, who is coming back from a strained left oblique. "However that comes, that one-inning situation, whatever it may be, critical or non-critical. Just getting back in the game, get the feet wet for this playoff run, and then hopefully a playoff run, that would be pretty exciting."
Following Sunday's 9-2 victory over the Astros, which pushed the Indians 1 1/2 games ahead of the Rangers for the American League's second Wild Card spot, Masterson completed a one-inning simulated game on the mound at Progressive Field. The righty worked through 26 pitches, added two pick-off moves and did some fielding drills.
Bullpen coach Kevin Cash stood in the batter's box to simulate a batter -- shifting between the right and left side -- but did not swing. Masterson threw all his pitches during the workout, which was monitored by manager Terry Francona, general manager Chris Antonetti and members of the medical staff, among others.
Indians pitching coach Mickey Callaway appeared pleased with how Masterson looked throughout the workout.
"I thought it was really good," Callaway said. "The intensity was really good -- game speed. His command was pretty good for the first time out there. He looked good. We were a little worried about doing pickoffs and stuff like that. That's kind of a tough one with his injury, but he looked good and wasn't protecting against that. He's healthy."
Masterson echoed that evaluation.
"I was good," the pitcher said. "The arm felt great."
Masterson -- an All-Star for the first time this season -- is 14-10 with a 3.52 ERA in 189 1/3 innings (29 starts). In an outing against the Orioles on Sept. 2, the right-hander exited after facing five batters because of pain in his left side. Masterson resumed throwing Sept. 12 and has not experienced any setbacks since increasing the intensity of his workouts.
Callaway indicated that, barring any unforeseen issues, Masterson could appear in relief against the White Sox on Wednesday, when Indians right-hander Danny Salazar is scheduled to start. Cleveland's pitching coach said the idea was to use Masterson in a true relief role for the rest of the season and then, if the team makes the playoffs, the Indians would revisit potentially building his innings in preparation to start.
The goal over the final six games is not to stretch Masterson out.
"No, it's, 'Come out and get some big outs when we need them,'" Callaway said.
Jordan Bastian is a reporter for MLB.com. Read his blog, Major League Bastian, and follow him on Twitter @MLBastian. This story was not subject to the approval of Major League Baseball or its clubs.