Wilson almost goes the distance as Halos fall
Wilson almost goes the distance as Halos fall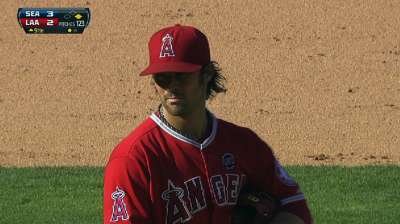 ANAHEIM -- For the bulk of September, the Angels' offense has thrived, but as they lost, 3-2, to the Mariners on Sunday afternoon at Angel Stadium, the recent surge came to a screeching halt.
The loss, just the Halos' eighth since Aug. 23, spoiled another strong performance by C.J. Wilson.
Entering Sunday's series finale, the Angels were averaging 5.4 runs per game and hitting .281 in the month of September, but as the club lost in its bid to sweep Seattle, simply putting the ball in play was an issue.
"We struck out 15 times, which is obviously a little on the high side," Angels manager Mike Scioscia said. "Hit a couple balls hard with guys in scoring position. Kole Calhoun lined out with bases loaded to right field -- he really squared that one up. But outside of that, we couldn't get that clutch hit to give C.J. a little breathing room and to get us a lead."
Mariners ace Felix Hernandez -- pitching for the first time in 20 days after he was sidelined with a strained oblique -- struck out 10 Angels in his four innings of work.
"I was strong, trying not to overthrow and just throw strikes," Hernandez said. "But I threw too many pitches. I struck out a lot of guys, but threw too many pitches."
Although Hernandez's outing was brief, Seattle's bullpen picked up right where he left off as Oliver Perez struck out the side in the fifth.
From the final two outs of the fourth to the first two outs of the sixth, seven straight Angels struck out.
Erick Aybar and Josh Hamilton each struck out three times as the Angels No. 2-4 hitters -- Aybar, Mike Trout and Hamilton -- went a combined 1-for-12 with eight strikeouts and a trio of walks.
Although Wilson's streak of 13 straight starts without a loss came to an end, the left-hander notched another quality start and also surpassed the 200-innings mark for the fourth straight season.
"Great season," Scioscia said. "Everything he's done is what you would expect from a high-profile pitcher and he's delivered. He's had a great year, given us great innings, pitching deep into games and obviously the wins, too."
Wilson, however, wasn't focused on the individual accomplishment.
"As a starter, you're trying to go out there and make all your starts and throw as many innings as you can," Wilson said. "That's your job, so I'm just out there doing my job. It's good, but the wins that I had this year and the innings, strikeouts and all that stuff, that's for fantasy baseball players. Real baseball players are concerned about winning for the team."
Wilson pitched 8 1/3 innings and limited the Mariners to three runs on eight hits.
The Mariners got to Wilson for the first run of the game when Mike Zunino doubled home Kendrys Morales in the top of the second.
Wilson then kept the Mariners off the board until Justin Smoak hit a two-run homer -- his 18th of the season -- to left field in the sixth.
"It wasn't right down the middle. I just didn't bounce it," Wilson said. "Haven't had that happen all year on that pitch. I'm usually able to bounce a ball anytime I want to. It's one of those things where, if you get a guy out often enough, he's going to make an adjustment or you're going to mess up."
The Angels' offense came courtesy of Efren Navarro's first career RBI in the second and Calhoun's solo home run in the eighth.
While Calhoun began the game hitting .323 in his last 27 games, he also had just two hits in 19 at-bats prior to the home run.
"Streaks come and go," Calhoun said. "It's not easy to stay hot all the time. Just have to battle each day and hopefully get some good pitches to hit, put some good swings on them and have some things go your way."
In the third inning, the game was delayed by 23 minutes due to swarming bees on the mound and in the outfield, but a fan named John Poto -- an apiarist at local beehive removal company Honey Pacifico -- volunteered to help the grounds crew deal with the issue.
"That was weird," Wilson said. "Obviously, it didn't bother Felix. He didn't crack. Kole was freaking out. There was a softball sized bee colony on the ground. It was amazing. I've never seen that before. That dude just came out of the stands, 'It's OK, I'm a beekeeper.' It was like a Seinfeld episode."
William Boor is an associate reporter for MLB.com. This story was not subject to the approval of Major League Baseball or its clubs.