Rotation adjusted; Lackey to start Tuesday
Rotation adjusted; Lackey to start Tuesday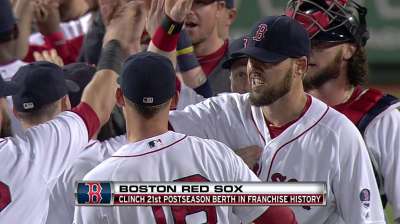 BOSTON -- The Red Sox switched up their starting rotation for their two-game Interleague series in Colorado that will begin on Tuesday.
Rather than giving John Lackey an inning out of the bullpen, as originally planned, Boston will have Lackey start Tuesday's game. He'll then start the regular-season finale against the Orioles on Sunday. Jake Peavy, originally scheduled to start on Tuesday, will start Wednesday instead.
"We still want to play a good brand of baseball," manager John Farrell said. "We don't see the clinching of the division as a breather. It's a matter of continuing on and playing a very sound brand of baseball."
In his first season since recovering from Tommy John surgery, Lackey has thrown 183 1/3 innings. But innings shouldn't be a concern for the right-hander, who averaged 194 innings a season between 2003 and 2011.
His highest total is 231 innings, combined with the postseason, in 2007.
Clay Buchholz, Jon Lester and Lackey will finish out the final three games of the season, in that order.
Jason Mastrodonato is a reporter for MLB.com. Follow him on Twitter @jmastrodonato. This story was not subject to the approval of Major League Baseball or its clubs.