Jackson settles in after sluggish start, but Cubs fall
Jackson settles in after sluggish start, but Cubs fall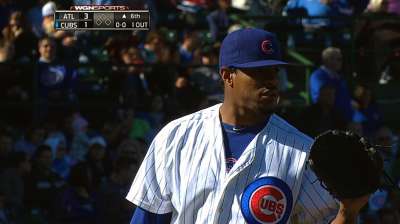 CHICAGO -- The Cubs rode an eighth-inning rally to post a come-from-behind win over the Braves on Saturday, but after falling behind again on Sunday, they couldn't mount another comeback in the series finale.
The Braves hit three home runs and the Cubs' offense was stymied by Atlanta starter Julio Teheran in a 5-2 loss at Wrigley Field. The Braves clinched their first National League East title since 2005 with a Nationals loss earlier in the afternoon.
Cubs starter Edwin Jackson labored through a 28-pitch first inning in which he gave up a two-run homer to Freddie Freeman.
The veteran right-hander settled down after the opening frame, retiring 10 of the next 12 batters. But in the fourth, Andrelton Simmons lined a 1-2 slider from Jackson just over the left-field wall for a solo homer -- the first of his two home runs -- to make it 3-1.
"I gave up the two-run homer to Freeman and a hanging slider on 1-2 on a count to put away Simmons and that pretty much sums up the day," Jackson said. "I feel like I kind of got beat on two pitches, more so on the slider 1-2 than on the fastball to Freeman."
Jackson tossed six-plus innings, allowing three runs on eight hits while walking none and striking out six, recording his 14th quality start. He has walked two or fewer in 21 of his 30 starts, and issued no walks in a start for the fifth time.
"I thought Jackson, it was one of the better games he's pitched, actually," said Cubs manager Dale Sveum. "He threw his curveball a lot, he threw his changeup more than he has all year, and obviously he had his slider today, a really good slider and command of his fastball."
The Braves tacked on two more runs in the eighth on Simmons' second home run, a two-run shot to center off reliever Brooks Raley to make it a 5-1 game.
The Cubs scored their first run in the first. With two outs and nobody on, Anthony Rizzo hit a shallow fly ball to right that appeared to fool Justin Upton, who broke in late and couldn't make a diving catch, enabling Rizzo to reach second with a double.
Dioner Navarro followed with a line-drive single that went under the glove of second baseman Elliot Johnson, scoring Rizzo.
The Cubs added another run in the eighth on a fielder's choice grounder by Starlin Castro.
They had another scoring chance in the fifth. Brian Bogusevic opened the inning with a single and one out later, Darwin Barney singled on a fly ball that center fielder Jason Heyward lost in the sun. Jackson sacrificed both runners into scoring position for Castro, who struck out in an 11-pitch battle with Teheran.
Castro said that even though he struck out in that situation, his 11-pitch at-bat -- in which he fouled off five pitches -- was indicative of the type of hitter he was a couple of seasons ago, when he collected over 200 hits.
"I feel good," Castro said. "I'm not a machine that every at-bat I get a hit or something like that. But I feel pretty good. I feel like it was me when I got my 200 hits, when every at-bat I felt like I won the at-bat. I looked at some pitches. I think I had my timing."
Castro added that a piece of advice from Cubs president of baseball operations Theo Epstein has helped him over the last few games.
"He told me to be myself and don't try to take a walk," Castro said. "Some people have this talent and some people don't. Some people swing the bat and some people can take pitches, but I'm not that kind of [hitter]. I just [have to] be me and go and play and keep being aggressive."
The Cubs brought the potential tying run to the plate with one out in the ninth against Braves closer Craig Kimbrel, but Bogusevic and Junior Lake both struck out swinging.
Castro said a big issue for hitters late in the game was the late afternoon shadows that covered the home plate area.
"After the sixth inning it was unbelievable because of the shadows," he said. "When I faced [reliever Luis] Ayala, he threw me a pitch I was supposed to smash, but I couldn't hit it because I couldn't see it until it was too late."
After watching the Braves celebrate their NL East title on the field once the final out was recorded, Castro said he's happy for Atlanta, but also thinks the Cubs could be celebrating a playoff berth in the near future.
"I'm happy for those guys," Castro said. "They played pretty good baseball. I think it's us that are going to be like that one day pretty soon."
Manny Randhawa is an associate reporter for MLB.com. This story was not subject to the approval of Major League Baseball or its clubs.