Braves earn division crown, then boost NL-best mark
Braves earn division crown, then boost NL-best mark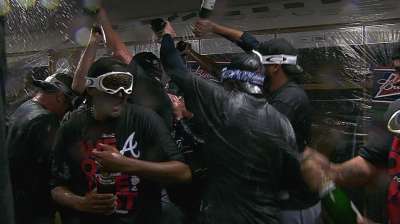 CHICAGO -- When the season began, the Braves believed Julio Teheran was capable of providing reliable depth at the back end of the bullpen. Six months later, they view him as proven pitcher who could play a significant role during the postseason that awaits them.
Teheran stood tall over six strong innings and Andrelton Simmons hit a pair of home runs that helped the Braves celebrate both a 5-2 win over the Cubs and the clinching of the National League East title on Sunday afternoon at Wrigley Field.
"To be honest, I don't even remember what happened in the game," Simmons said. "I know we won the division and that is all that is on my mind right now."
The Braves entered the series finale needing one more win or a Nationals loss to secure their first division title since capturing their 14th straight in 2005. Washington suffered a 4-2 loss to Miami while Atlanta was batting with a two-run advantage in the sixth inning.
When some players came from the clubhouse saying the Nationals had lost, Braves manager Fredi Gonzalez waited to see confirmation on Wrigley's big scoreboard in center field.
"I told [bench coach] Carlos Tosca, I don't know whether to smile or to cry," Gonzalez said in reference to his reaction during the game.
When Craig Kimbrel completed a scoreless ninth, the Braves rushed on the field to mob their dominant closer and enjoy a celebration that they have been eagerly anticipating over the past week.
"After that last pitch, I don't even know what happened," Kimbrel said. "It was great. It was everything we've worked for the last few years. We've been through a lot together."
Now the Braves' focus will be on securing home-field advantage for the playoffs. With Sunday's victory, the Braves are an NL-best 92-63, while the Cardinals, who lost to the Brewers on Sunday night, are 91-65.
While there is more to accomplish, this has been a season to remember for the Braves, who have spent a Major League-high 175 days in first place. There was not much drama surrounding the NL East race as Atlanta has owned a lead of at least eight games dating back to July 24.
"We've been trying to get this over with," Braves third baseman Chris Johnson said. "It's exciting. It's the best feeling I've ever had playing baseball."
Though Teheran certainly knew the potential reward that could follow this start, he appeared unfazed as he scattered four hits and allowed just one run that came courtesy of a pair of first-inning defensive mistakes. The 22-year-old rookie right-hander has compiled a 2.66 ERA in 11 starts since the All-Star break.
Teheran delivered the first of his 91 pitches with the early advantage he received when Freddie Freeman hit Edwin Jackson's first-pitch fastball over the right-field bleachers and onto Sheffield Ave. The two-run, first-inning blast was the first baseman's 23rd homer, six of which have been hit on the first pitch.
After allowing hits to three of the first five batters he faced, Jackson silenced the Braves until Simmons lined a solo home run into the basket above the left-field wall with two outs in the fourth. The dazzling Braves shortstop added a two-run shot off Brooks Raley in the eighth to account for the second multi-homer game of his career. He also went deep twice in Cincinnati on May 6.
Simmons' 17 home runs match Jeff Blauser (1997) for the second-most by a Braves shortstop in a season. Denis Menke hit 20 in 1964 for the Milwaukee Braves.
"It's unbelievable what he does in the field and then all of the sudden he comes out and hits two home runs," Freeman said of Simmons. "It's just icing on the cake. He's been great the whole year."
The power barrage provided more than enough for Teheran, who might have been perfect through four with some help from his defense. Justin Upton's misread with two outs in the first allowed Anthony Rizzo's double to fall in shallow right field. Dioner Navarro followed with a sharp single that second baseman Elliot Johnson did not handle, scoring Rizzo.
Teheran retired the next 10 batters before allowing Brian Bougesevic to begin the fifth with a single. Two batters later, Darwin Barney recorded a gift single when Jason Heyward lost the ball in the bright sun.
This simply set the stage for Teheran to once again show his moxie. With runners at second and third and two outs, Teheran ended an 11-pitch battle against Starlin Castro with a 94-mph fastball that eluded the shortstop's swing.
"He's been unbelievable all year and what he did today in the six innings that he pitched was pretty unbelievable," Freeman said. "It was a big day and he did an unbelievable job."
Simmons' powerful showing combined with Teheran's latest impressive outing enabled the Braves to fully savor what had been clinched before the final out in this series finale was recorded.
"It was important for us to win the game," Upton said. "This wouldn't be as special if we didn't go out and take care of our business. That was our goal from the minute we stepped in here this morning, to take care of it ourselves."
Mark Bowman is a reporter for MLB.com. This story was not subject to the approval of Major League Baseball or its clubs.