Mauer's workload awaiting medical clearance
Mauer's workload awaiting medical clearance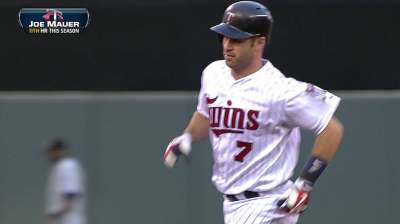 OAKLAND -- Twins general manager Terry Ryan said Sunday that any decision involving Joe Mauer will have to wait until the catcher receives medical clearance.
"The most important thing is getting him 100 percent," Ryan said before the Twins' final road game of the season. "Once we get the clearance, we can move forward."
Mauer has been working out at Target Field the past few days, though it has mostly been cardio and weight work.
Ryan said Mauer has been progressing enough that he may get outside to begin light baseball activities sooner rather than later. There's very little chance of him returning to the lineup this season.
"He's been symptom-free the last couple of days," Ryan said. "Unfortunately we are running out of schedule. If he takes batting practice, fine. If not, so be it."
Ryan hopes the rehab can progress to the point Mauer can begin to prepare for Spring Training as he would normally.
Ryan said Mauer does core work and conditioning during the offseason.
"He's not one to do a bunch of hitting," Ryan said.
Mauer is hitting .324 and will likely enter next season with a seven-game hitting streak. He has not played since Aug. 19.
Mauer, who was diagnosed with a concussion after taking a foul ball off his mask, hit .438 (14-for-32) during his hitting streak.
Rick Eymer is a contributor for MLB.com. This story was not subject to the approval of Major League Baseball or its clubs.