Gardenhire keeps Pinto's bat in lineup at DH
Gardenhire keeps Pinto's bat in lineup at DH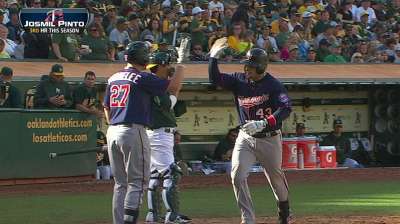 OAKLAND -- Josmil Pinto remained in the Twins lineup Sunday even though Eric Fryer was given the start at catcher.
"I wanted to keep his bat in the lineup," Twins manager Ron Gardenhire said. "Sometimes it looks like he's the only guy on the field. He's getting after it, hustling. He's out there playing and I enjoy watching this young man play."
Pinto who served as the designated hitter Sunday, entered the game hitting .377 with three home runs and nine RBIs since being called up on Sept. 1.
Josh Willingham had told Gardenhire he was available to DH for the finale with the A's, against whom he has a career .396 mark, his best against any team.
"I told him I wanted Pinto in there because he was swinging a better bat," Gardenhire said. "Josh said, 'Thanks for being brutally honest.'"
Willingham missed Saturday's game with a sore left foot.
Rick Eymer is a contributor for MLB.com. This story was not subject to the approval of Major League Baseball or its clubs.