Scioscia: Romine's played well, has room to grow
Scioscia: Romine's played well, has room to grow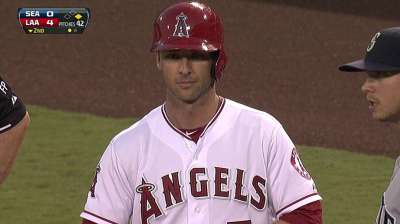 ANAHEIM -- Angels manager Mike Scioscia said it's too early to project what will happen next season and that Andrew Romine has to improve on certain aspects of his play at third base, but didn't rule out the possibility of Romine competing for an everyday job in 2014.
"Andrew Romine has played good baseball for us, and that's all you can do if you get an opportunity," Scioscia said.
While Romine has spent the bulk of his time at third base lately, he has been all over the field this season.
The infielder has played in 17 games at shortstop, 17 at third and four at second. Although his defensive versatility is useful, Romine has also been contributing at the plate.
In Friday's 3-2 victory over the Mariners, Romine tied a career-high with three hits. The infielder also has 11 hits in his last 27 at-bats (.407) and nine RBIs in his last 12 games.
"Getting more at-bats is the difference," Romine said. "I think that's really the biggest part of it is getting comfortable."
Romine began the season in Anaheim, but struggled as he hit just .130 in 23 at-bats in April.
In his last 22 games, however, things turned around, and he was hitting .328 in that span entering play Sunday. Aside from simply getting more opportunities, Romine feels getting into the flow of the season has helped him find a rhythm.
"The biggest difference is just the beginning of the season as opposed to the end of the season," Romine said. "Beginning is always tougher. You're starting over, getting in the swing of things. The end, you know what you've been doing, you know what works and what you can do to finish strong."
William Book is a contributor to MLB.com. This story was not subject to the approval of Major League Baseball or its clubs.