Barton making big impact since Triple-A tuneup
Barton making big impact since Triple-A tuneup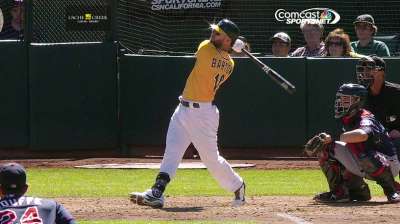 OAKLAND -- Daric Barton was an afterthought for the A's after his demotion from the big leagues in May, but he's been a major contributor for the team since his return to the Majors in August. Less than a month since his second stint began, he's making a strong case for his inclusion on the team's postseason roster.
Barton was one of three A's to hit a home run on an American League West-clinching day that helped their chances of securing home-field advantage in the AL Division Series. And he's made 18 starts in 25 games since he was brought back from Triple-A Sacramento on Aug. 25 -- a stark turn of events for a player who had been humbled numerous times as a member of the A's organization.
"This is the only place I know. This is where I'm comfortable, this is where I want to be," a champagne-soaked Barton said amid the A's victory celebration. "I couldn't ask for anything more. [GM] Billy [Beane] has given me every opportunity in the world and I'm thankful and grateful for everything that he has done for me. I'm just trying to do what I can to help the team win and I'm just trying to be me and be the player they knew who could come over here."
Barton has made a significant impact on the defensive end at first base, and his hitting -- a main reason for his initial designation and eventual outright to Triple-A -- has seen improvement as well. He went 3-for-3 and was a triple short of the cycle Sunday, scoring three runs and driving in one of his own. He's hitting. 319 in 24 games since his return to the Major Leagues, during which time the A's have gone 20-4 in games he has played.
Additionally, he's excelled with runners in scoring position, batting 9-for-20 in an area that the A's struggled with early in the second half of the season.
"A lot like last year, when we brought players to the big leagues, we brought them when they were playing well. And he was playing really well at the time. He has continued that here," A's manager Bob Melvin said. "The timing of it was really good, not only for us but for him confidence-wise, and he continues to perform for us."
The plus defense has stayed constant as well. He's yet to commit an error in 32 games at first base and after Sunday has a 79-game errorless streak as a first baseman, which is the third-longest in Oakland history.
"You know if you put it anywhere in the vicinity he'll do the splits for the stretch and catch just about anything," middle infielder Eric Sogard said. "It's very reassuring for an infielder."
Jeff Kirshman is an associate reporter for MLB.com. This story was not subject to the approval of Major League Baseball or its clubs.