Melvin not testing fate by altering routines
Melvin not testing fate by altering routines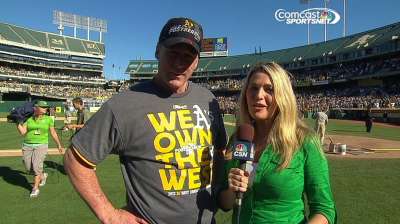 OAKLAND -- Chances are, A's manager Bob Melvin used the same pen to fill his lineup card as he did yesterday, the day before and the day before that.
He most likely took the exact same route to the ballpark during that span, and it's all but guaranteed that he's mirrored countless other actions as much as possible during the time in which the A's have won 12 of the past 13 games and improved to a season-high 30 games over .500.
Because Melvin is superstitious -- so superstitious that when one reporter made the egregious mistake of placing a voice recorder on the manager's lineup card, he respectfully picked it up, placed it to the side and rearranged his notes.
"I'm a little antsy about my lineup card," said Melvin, who as a player wore the same Don "Magic Man" Majkowski T-shirt because it seemingly guaranteed he'd have two hits on the day.
Such behaviors didn't come about until he reached the professional ranks, he said before Sunday's home finale at O.co Coliseum, and they've grown more and more impactful on his actions since becoming a manager.
"They mount over the years, unfortunately," Melvin said. "They seem to get more and more extreme. As a player, all you can do is control what you do on the field. As a coach, you can't control anything. As a manager, you just sit here and hope and worry. I think the superstitions probably come a little bit more controlling, put it that way."
Melvin's fear of jinxes had prevented him from discussing potential playoff scenarios until the American League West was officially locked up, which the A's did Sunday with the Rangers losing in Kansas City.
A situation involving sewage in Oakland's dugout last week forced Melvin to vacate his normal good-luck spot in the middle of a 1-1 tie in the sixth inning against the Angels. The A's eventually won, 2-1, on Josh Donaldson's walk-off single, suggesting that the area of the dugout deemed fortuitous by Melvin isn't as vital to his team's success as he may think.
But he's returned to his original spot, leaving the other area as a viable contingency plan should it be necessary.
"I move around a little bit depending on what's working," Melvin said. "If that transpires within the dugout, maybe I know where to go. I'm pretty consistent with where I stay."
Jeff Kirshman is an associate reporter for MLB.com. This story was not subject to the approval of Major League Baseball or its clubs.