A's glad to share celebration with home fans
A's glad to share celebration with home fans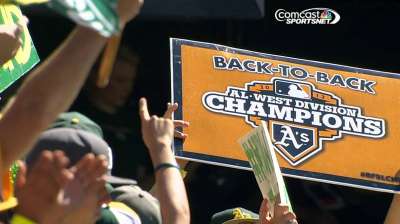 OAKLAND -- Whether related to attendance, location or its overall concrete aesthetics, opinions regarding the conditions and merits of O.co Coliseum are in no short supply both in the Bay Area and around baseball.
Josh Reddick, though, had new insight to share following the A's clinching of their second straight American League West title on the final home game of the regular season.
"Everybody in this stadium's great. When we fill it up and make the noise that we can, it's one loud stadium," a champagne-soaked Reddick said after the game. "It's probably the loudest I've been in, and I've played at Fenway in Yankees series."
High praise coming from the former Red Sox outfielder, who, like many in the A's clubhouse, placed an added emphasis on securing the division in front of the hometown fans.
"We brought it down to the wire both times," Coco Crisp said. "Doing it in front of our crowd, they've been very faithful to us since I've been here. We feed off that."
The announced attendance of 30,589 alerted the A's players of the fact that they had won the division during the third inning after the Royals defeated the Rangers in Kansas City. Reliever Jerry Blevins watched the end of the game in the clubhouse before rushing back to the field to see the fans' reactions and then to the bullpen to celebrate with his fellow relievers.
"I could tell in the third inning that something had happened in the other game but I was trying to stay focused and win this ballgame," rookie starter Sonny Gray said. "It was special. Knowing what was at stake, it was probably one of the most nerve-wracking starts that I've had. You want to do so much for the team and so much for the fans. You want to win this game."
The A's made sure to win Sunday even with the division crown already in hand, because the magic number to win home-field advantage in the AL Divisional Series is at four over the Tigers with six games remaining. The tarps of the upper deck will be removed for the playoffs to include extra fans, who will be able to watch to first the two games of the ALDS at the Coliseum should the A's hold on to their lead.
"That's very indicative of our team," Blevins said after the game. "That's what we do. We don't ever ease up. We're always pushing forward. We're always playing for the moment. There's no relax for this team."
Jeff Kirshman is an associate reporter for MLB.com. This story was not subject to the approval of Major League Baseball or its clubs.