To help fielding, Cahill plans to tweak mechanics
To help fielding, Cahill plans to tweak mechanics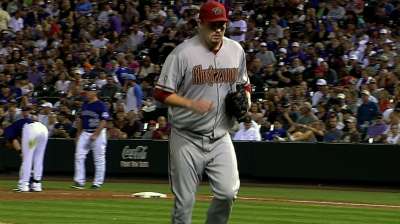 DENVER -- After being struck on the right hip by a line drive for the second time this year, D-backs right-hander Trevor Cahill said he will look to tweak his mechanics during the offseason so that he finishes his delivery in better position to field the ball.
"He's been hit a few times, you know, so it sounds like a good idea," Arizona manager Kirk Gibson said.
A bigger offseason project for Cahill and the D-backs will be to try and figure out how to eliminate the sudden loss of control that has happened to Cahill during his outings this year.
"When he doesn't walk guys he's pretty tough," Gibson said. "He cruises along and then he just loses it, and that's something I'd like to see him fix. We need to fix that together. We didn't get as much out of him as we needed to. He's capable of doing much better."
Cahill is 8-10 with a 4.02 ERA heading into his final start of the season Thursday against the Padres.
"With his stuff, I think he could win 20 games," Gibson said. "I really do."
Steve Gilbert is a reporter for MLB.com. Read his blog, Inside the D-backs, and follow him on Twitter @SteveGilbertMLB. This story was not subject to the approval of Major League Baseball or its clubs.