Ethier could start on Tuesday
Ethier could start on Tuesday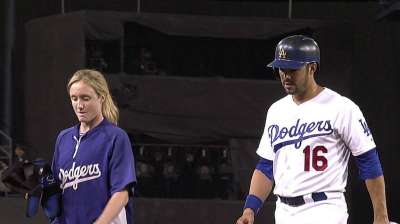 SAN DIEGO -- Dodgers outfielder Andre Ethier, who had been out since Sept. 13 with a turned left ankle, pinch-hit in Sunday's 1-0 win over the Padres and manager Don Mattingly said he could return to the starting lineup as soon as Tuesday night.
Ethier, who struck out in the eighth inning in his return to action, is currently the most seriously injured of the lineup nucleus. He, Hanley Ramirez (back nerve), Adrian Gonzalez (quad), Carl Crawford (lower back) and Yasiel Puig (hip) have needed rest recently for ailments.
Ethier has been able to hit with his left ankle tightly wrapped, but said he expects running to be the final hurdle. He has been easing into it on a treadmill the past three days.
Ken Gurnick is a reporter for MLB.com. This story was not subject to the approval of Major League Baseball or its clubs.