Tovar delivers big hit in debut as Mets sweep Phils
Tovar delivers big hit in debut as Mets sweep Phils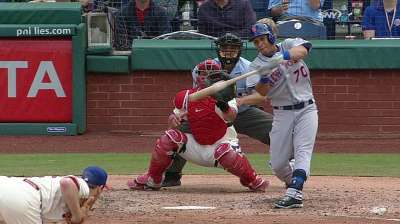 PHILADELPHIA -- Wilfredo Tovar did not have much time to prepare, and maybe that was a good thing. He wasn't remotely intimidated at having to face Phillies ace Cliff Lee in his Major League debut with the Mets on Sunday. Asked what he knew about Lee, a former American League Cy Young Award winner, Tovar shrugged and said: "Um ... nothing."
Tovar was home in Venezuela Sept. 19, but after Ruben Tejada broke his right fibula, he was on a plane to join the big league club. And on Sunday, Tovar delivered a single to left off Lee with two on in the seventh to help the Mets rally from a 2-1 deficit and sweep the Phillies with a 4-3 win at Citizens Bank Park.
"I basically took the first at-bat, and he was pitching me inside, and the second at-bat the same thing," said Tovar, with Binghamton Mets manager Pedro Lopez acting as interpreter. "The third at-bat, I was looking for something inside. I got it, and I was able to drive in the run.
"I'm excited about this opportunity. I didn't expect to be here, and then to get the call and get a hit like I did, I just want to make the most of this. When I saw my name in the lineup, I just wanted to do whatever I could to get us a win."
Tovar finished with two hits and played flawlessly in the field.
"I'm excited; it means a lot to be in this position," Tovar said. "As a kid, this is all I dreamed about. I feel fortunate to be here and have this chance."
Mets manager Terry Collins said he never considered pinch-hitting for Tovar, even with David Wright sitting on the bench Sunday.
"He did a bunch of good things today," Collins said. "I'm sure he was nervous. But he handled himself great. That was a big at-bat for him."
It helped lead the Mets' to their first sweep of the Phillies since May 7-9, 2012, and New York also moved into a tie with the Phillies for third place in the National League East. Carlos Torres pitched six innings, allowing two runs on seven hits and three walks. He struck out six, improving his record to 4-5. Juan Lagares had three hits, tying his career high. LaTroy Hawkins pitched the ninth for his 12th save, striking out Jimmy Rollins with the tying run on second to end the game.
It was the 100th save of Hawkins' career.
"Coming into this year, I didn't think I'd have a chance to get it," Hawkins said. "I really didn't. But baseball is a crazy game.
"Guys always [get on me] about my age. They have fun with it, but deep down inside I know they all wish they could play at 40 years old. And I always say: 'I hope you make enough money that you don't have to.'"
All kidding aside, Hawkins has been outstanding for the Mets. He's thrown 12 straight scoreless innings, and hasn't been scored upon in 23 of his last 25 games. He might have earned a chance to return. Hawkins said flatly: "I will play next year. I just need somebody to give me a job."
"We didn't know what we had, but one of the things that's amazed us is the velocity," Collins said. "The guy's throwing 95 miles an hour in the ninth inning. The guy has done everything. He's a real veteran and a quality guy in this game."
The Mets and Phillies were tied at 1 in the sixth when right fielder Andrew Brown lost Rollins' fly ball in the sun. Rollins had turned toward the dugout thinking the ball was caught, but when he saw it skipping on the outfield grass he reversed field and reached second. Chase Utley followed with a single to advance Rollins to third, and he scored on Domonic Brown's one-out single.
It certainly could have been worse -- Darin Ruf followed Brown's hit with a walk that loaded the bases. But Torres struck out Cody Asche and got Kevin Frandsen to fly out to center to end the threat.
In the top of the seventh, Lagares started a Mets rally with an infield single. Anthony Recker followed with a drive to right-center that seemed catchable but fell between Ruf and center fielder Cesar Hernandez. That brought up Tovar, who drilled a single to left to score Lagares. When Brown bobbled the ball, Recker scored and Tovar hustled into second.
The Mets added on in the eighth inning after Lee departed. Daniel Murphy got it started with an infield single off B.J. Rosenberg, and Lucas Duda walked. Lagares doubled to right to score Murphy.
The Mets had to survive some eighth-inning fireworks. With one out and two on, a Vic Black wild pitch put runners at second and third. Ruf hit a pop up toward the stands on the first-base side, and Duda made a terrific catch while tumbling into the photographers' pit. Carlos Ruiz tagged up and was able to score, pulling the Phillies within a run.
"I thought for sure Luc was going to wind up in the seats," Collins said. "That's a big body to stop."
Black struck out Asche to get out of the inning.
Kevin Roberts is a contributor to MLB.com. This story was not subject to the approval of Major League Baseball or its clubs.