Dominant Holland has chance to set saves record
Dominant Holland has chance to set saves record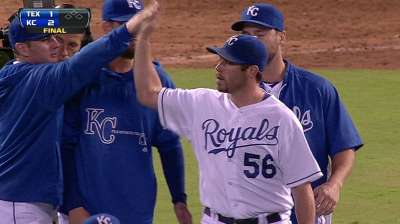 KANSAS CITY -- To cap off an already impressive first season as the Royals' closer, Greg Holland has a shot to tie or break the franchise single-season saves record.
Holland, a first-year All-Star, entered Sunday's game with 44 saves this season, which puts him in second place on the list. One more save would tie him with Dan Quisenberry and Jeff Montgomery, who recorded 45 saves in 1983 and '93, respectively.
"We don't really think about personal success that much," Holland said. "For us, we are still trying to make the playoffs so we just want to win games at this point. I really don't think that much about it."
Entering Sunday, he had converted 37 of his last 38 and 44 of his 47 save opportunities this season for a 94 percent success rate. He had allowed just four earned runs in 46 one-inning appearances since May 30 for a 0.77 ERA, while also recording 70 strikeouts for a 13.4 strikeouts-per-nine ratio.
"The bottom line is, 'Are you going to save a game for us? And are you going to do it on a real consistent basis?' The answer to that is yes, every time, with him," manager Ned Yost said.
Holland has added consistency to the back of a bullpen that led the American League with a 2.55 ERA entering Sunday's game.
"As soon as we got the last out in the eighth inning and we've got the lead, I relax," Yost said.
Kathleen Gier is an associate reporter for MLB.com. Dick Kaegel is a reporter for MLB.com. This story was not subject to the approval of Major League Baseball or its clubs.